LEDGER DRAWINGS + RICHARD NONAS
This fall, Hill Gallery will present the exhibition "Ledger Drawings + Richard Nonas". This extraordinary museum quality collection of Native American Ledger Drawings from Donald Ellis Gallery is paired with a sited sculptural installation by the artist Richard Nonas.
Please join us for a rare evening of interaction with Richard Nonas and Donald Ellis at the Hill Gallery on November 16th from 5 - 8pm, located at 407 W. Brown St. Birmingham, MI.
Richard Nonas lives and works in New York City.  He studied literature and philosophy and inspired by Margaret Mead, he found his calling in the study of social anthropology.  After his education, Richard spent 10 years working as a field anthropologist, living among Native American Indians in Northern Ontario, Northern New Mexico, and Southern Arizona.  In the mid 1960's he turned to sculpture to express space and place, using wood, iron and stone, affecting the people who pass near and through the changed physical environment. With a poetry of minimalism, Nonas creates a body of work that engages the mind and body. He has permanent outdoor installations in the sculpture garden of the Detroit Institute of Arts and on the grounds of Cranbrook Academy of Art.
Ledger Drawings + Richard Nonas will be on view from November 16th - December 22nd 2017.
For more information visit: www.hillgallery.com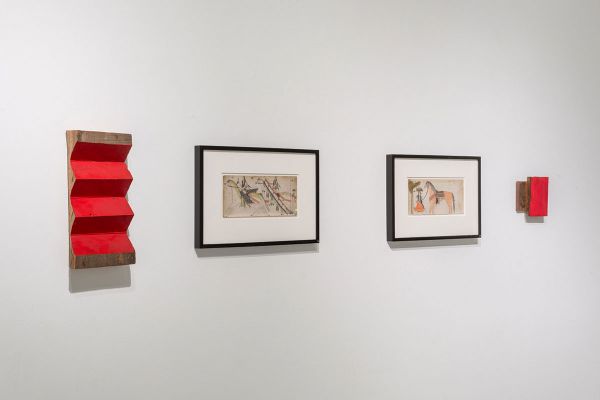 Picturing History: Ledger Drawings of the Plains Indians
In September, Fairfield University Art Museum in Connecticut will present "Picturing History: Ledger Drawings of the Plains Indians". In the second half of the nineteenth century, artists from the Plains Indian peoples (Lakota, Cheyenne, Arapaho and others dwelling in the Western United States and Canada) produced an extraordinarily rich and distinctive body of drawings chronicling battles, ceremonies, and winsome if sometimes jarring events of everyday life. Known as Ledger Drawings as they were done on the pages of commercially produced account books, these striking images, many bearing pictographic signatures, are executed in ink, graphite, and colored pencil and watercolor. What all share is their makers' acute powers of observation and ambition to record and describe recognizable people, places, things and events—to eloquently picture and record history as it transpired. The show runs from September 27 - December 20, 2017. Donald Ellis Gallery is proud to be a lender and supporter of this exhibition.
For additional information on the exhibition and the accompanying events visit: https://www.fairfield.edu/museum/exhibitions/past-exhibitions/ledger-drawings-of-the-plains-indians/index.html
Financial Times features
"These are more Surreal than we are!", an indignant André Breton apparently exclaimed when he first encountered a Yup'ik ceremonial mask in New York. It is little wonder that the Surrealists were fascinated by these coloured, strikingly adorned artefacts since they are among the most inventive, expressive and fantastical of all tribal arts."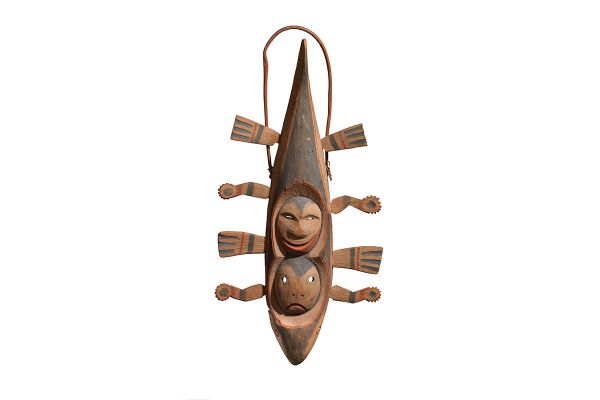 HYPERALLERGIC
Two Thousand Years of Inuit Art Goes on Display at the Frieze Masters Art Fair - a review by Hrag Vartanian
Frieze Masters 2017
Donald Ellis Gallery is pleased to announce its participation in the sixth edition of Frieze Masters to be held in Regent's Park, London, from October 5-8, 2017 with a VIP preview on October 4th.
This year the gallery will present a special exhibition of highly sophisticated Inuit art spanning two thousand years, dating from 200 BC to the 1970's.  The highlight of the exhibition will be the Donati Studio Mask, widely perceived to be the most important Yup'ik mask in private hands.  We will be also showing a group of masks formerly in the collections of Donati's surrealist friends Andre Breton, Robert Lebel and Roberta Matta.  Other highlights will include an exceptional and rare collection of approximately 20 of Inupiaq portrait masks from the second half of the 19th century. 
Among the oldest objects in the exhibition will be finely carved ivory figures from the Okvik, Punuk, and Thule cultures while the most recent being an important group of soapstone sculptures from the mid 20th century.  Artists John Pangnark (1920-1980), Lucy Tasseor Tutsweetok (1934-2012) and Andy Miki (1918-1983) are known for their use of minimalist style and geometric abstraction in human and animal forms.  Their highly individualized distilled abstractions are appreciated for their affinity with 20th-century abstract sculpture, such as those by Constantin Brancusi and Henry Moore, among others.
Complimenting this rich array of objects, the gallery will present a selection of drawings by Inuit artist, Parr (1893 - 1969) who lived a traditional nomadic hunting life.  Parr began drawing in 1961 at the age of 68 creating a body of approximately 2000 works.  His drawings are regarded as a record for future generations of the traditional hunting and nomadic lifestyle of the Inuit.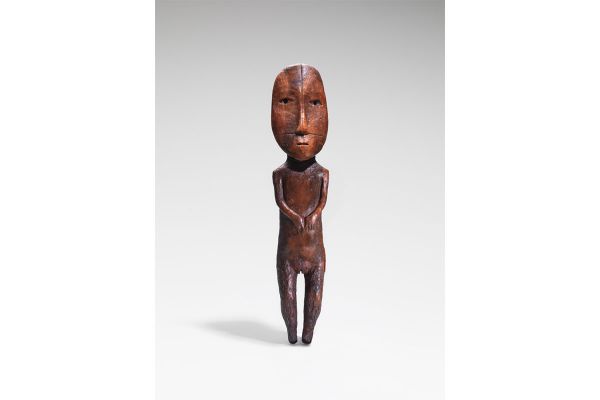 PARCOURS DES MONDES
For the fifth year Donald Ellis Gallery will be exhibiting in Paris in September at the Parcours des Mondes September 12th through the 17th. The Parcours is the leading tribal art fair in the world. We will present a selection of sculptures dating from 200BC to the 19th century from the Northwest coast and Alaska.
For information regarding dates, location and times visit: www.parcours-des-mondes.com.
Art of the Arctic: Reflections of the Unseen, Masks and Ivories from the Bering Sea
We are excited to announce the publication of Art of the Arctic: Reflections of the Unseen, Masks and Ivories from the Bering Sea. Published to celebrate the 40th anniversary of the gallery, the tumble format hardcover catalogue features 125 works of extraordinary Inuit art over 256 pages. There are essays by the leading Surrealist scholars Dawn Ades, Colin Browne and Marie Mauze along with Bill Wolf and Donald Ellis. The catalogue illustrates 49 extraordinary Yup'ik masks the gallery has handled during its history, along with the Wolf Collection of ancient ivories from the Bering Sea, a recent acquisition. The catalogue will be available in September. Orders may be placed online here.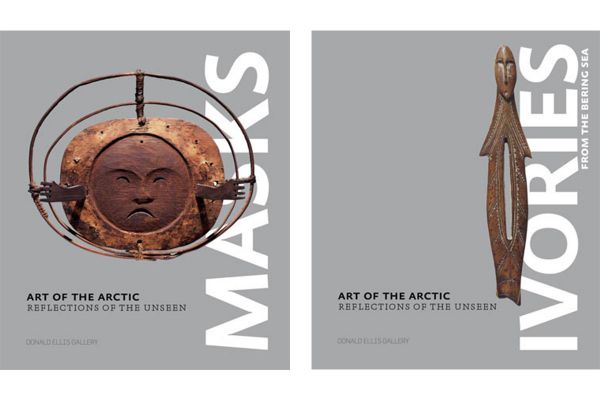 FRIEZE NEW YORK 2017
For the first time, Donald Ellis Gallery will be exhibiting at Frieze New York, May 5-7, 2017, with a VIP preview on May 4th. The gallery's presentation at Frieze New York is not only a response to but also an evidence of the growing interest from the field of contemporary and modern art in Plains Indian drawings, this little known but highly important aspect of American art history. We will be presenting an important group of late 19th century and early 20th century Plains Indian ledger drawings as well as an outstanding selection of historical Native American works of art from Alaska, the Northwest Coast and the American Southwest. We are particularly excited to present an extraordinary group of drawings by Hunkpapa Lakota artist Joseph No Two Horns (He Nupa Wanica, 1852-1942) from Standing Rock, North Dakota, one of the most prolific of the known Plains artists. These drawings will be shown for the first time publicly.
NEW DIRECTOR
Donald Ellis Gallery is pleased to announce that Aniko Erdosi has joined the gallery as Director. She brings more than 15 years experience in the international art market. Previously, Ms Erdosi directed a contemporary art gallery in New York, and prior to that worked as an independent curator and writer both in Europe and in the US. She holds an MA in Art History and a BA in Art Administration from Eotvos Lorant University in Budapest. She is currently a candidate for Certificate in Appraisal Studies from New York University.
The Armory Show 2017
Donald Ellis Gallery will, for the second year, be exhibiting at the Armory Show in New York, March 2-5, 2017, with a VIP preview on March 1. We will be presenting, at Pier 92 in the Modern section, an outstanding group of 19th century Plains Indian ledger drawings.
For more information about dates and times visit: www.thearmoryshow.com.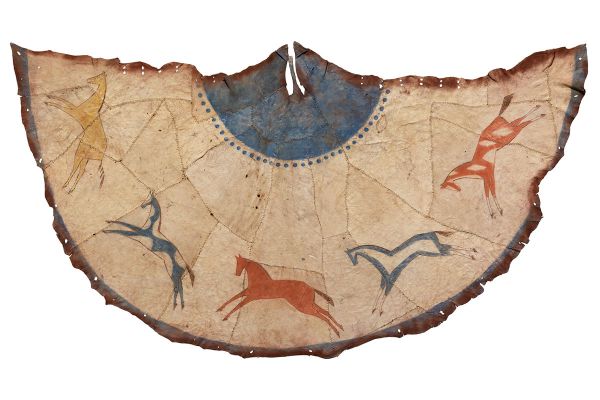 TEFAF Maastricht 2017
For the first time, Donald Ellis Gallery will be exhibiting at TEFAF Maastricht March 10-19, 2017. TEFAF is widely regarded as the world's pre-eminent antiques and art fair and this will be the first time historical Native American art will be presented.
For more information visit: www.tefaf.com