Woman's Ensemble
James Bay Cree
Northern Ontario or Quebec
ca. 1840-50
wool and cotton cloth, glass beads, silk ribbon
height: hood: 25"; dress: 48"; leggings: 19"; cape: 49"

Inventory # W3277
Sold
acquired by the Royal Ontario Museum, Toronto, ON
PROVENANCE
An old label with the outfit reads: "Grannie's red Indian dress bought in Canada about 1856 – or perhaps a few years earlier."
PUBLISHED
Donald Ellis Gallery catalogue, 2007, centerfold
Brasser, Ted. J. Native American Clothing: An Illustrated History. Toronto: Firefly Books, 2009, pgs. 102-103,
RELATED EXAMPLES
Brasser 1976, pl. 180
Duncan 1989, pg. 125
This remarkable ensemble consisting of a cape, dress, hood and leggings is the only known complete James Bay Cree woman's outfit from the 19th century. Originally purchased in Canada in about 1856 by a touring British woman, the outfit remained in the same family until 2005. Decorative details confirm that the individual items were intended to be combined into one ensemble. Identical wool braid can be found on the leggings, dress and dress sleeves. The bead colours, including an unusual mauve bead, along with similar design motifs link the hood with the leggings. This is further evidenced by the similarity in design on the cape and that seen on the hood and leggings.
The uniqueness of this cape and dress necessitate drawing comparative evidence from a small group of dolls outfitted in typical Cree garments dating 1790-1810, and from a single doll from the 1850's. Of the three miniature capes decorated at the hem and shoulder and fastened at the front, two are made of woolen cloth appliquéd with silk ribbon (Rosalie Whyel Museum of Doll Art), and the other with wool braid (Warnock Collection WC8905031). In the full sized cape seen here, the typical Cree floral design elements embroidered with wool yarn confirm its mid-century date. As well, the cut of the dress compares closely with that seen on a more recent cloth doll dating to the mid 19th century (British Museum 1923.6.194d).
All the dolls wear the practical detachable sleeves seen in the full-size dress, allowing greater flexibility in movement and physical comfort. The sleeves can be added in cold weather, removed inside a dwelling, and manipulated to facilitate breastfeeding. Presently only two full-size dresses are known, the fine example illustrated here, and a much later version in the National Museum of the American Indian (NMAI 15/166).
Firm dating and continuous collection history make this woman's outfit an important addition to the corpus of 19th century Cree material culture. Taken as a whole, the historical and ethnographic value of this ensemble is immeasurable.
Related Publications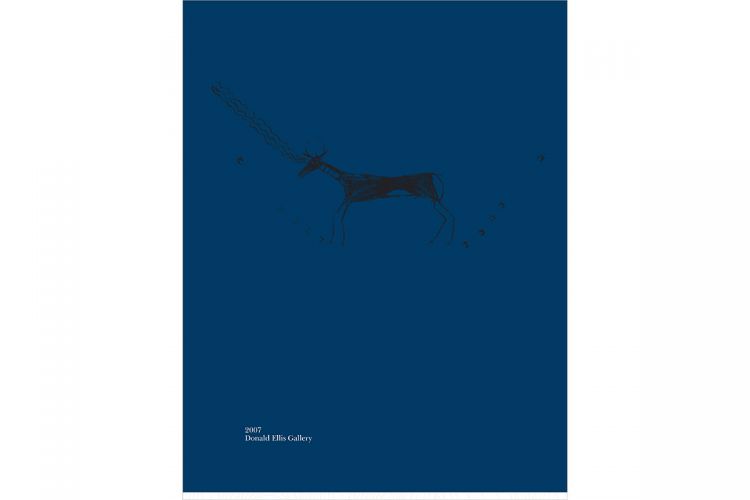 $35.00 USD