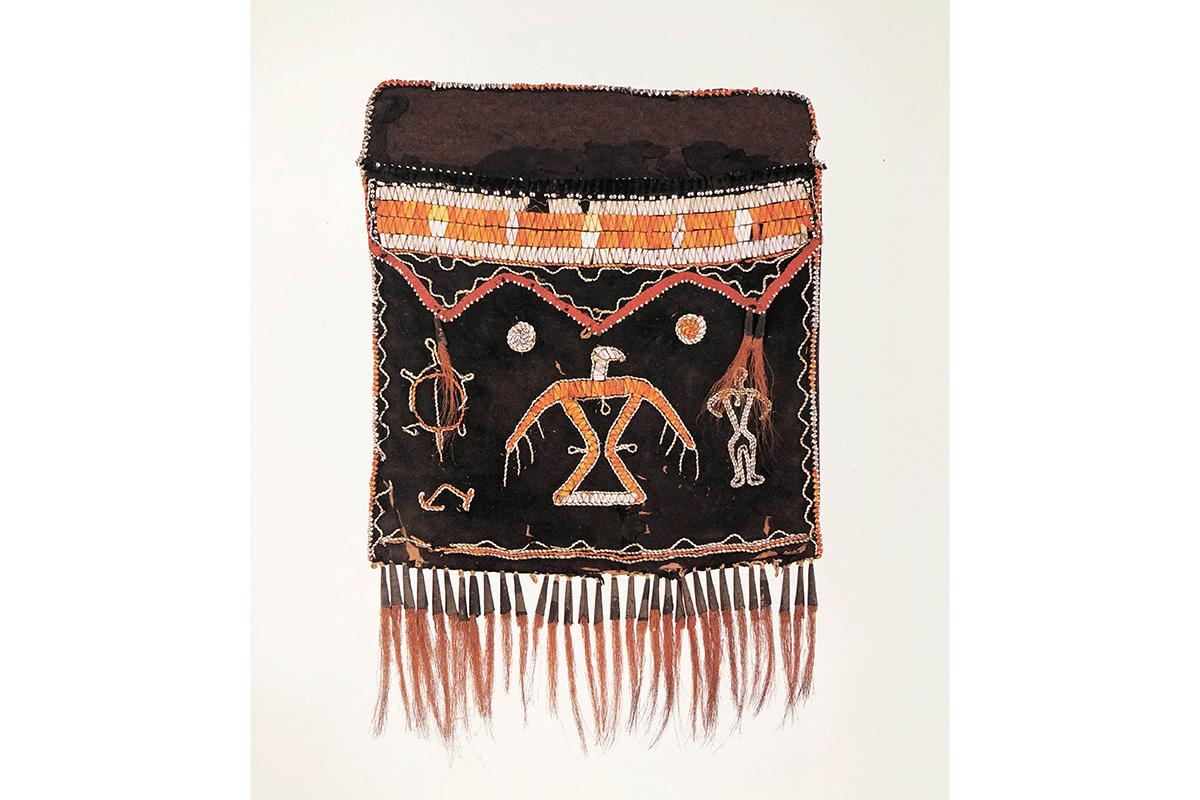 Shoulder Bag
Anishinaabe
Eastern Great Lakes
18th century
walnut-dyed deerskin, vegetal-dyed porcupine quills, tin cones, silk ribbon, dyed hair
height: 12"
width: 9"

Inventory # W1801
Sold
acquired by the Diker Collection, now at The Metropolitan Museum of Art, NY
PROVENANCE
William L. Bryant
Museum of the American Indian, No. 10/4041, presented by Harmon W. Hendricks in 1921
The Wellington Collection, Long Island, NY
PUBLISHED
Pleasing the Spirits, Ewing, Ghylen Press, 1982, plate 245
Donald Ellis Galllery catalogue, 1999, pgs. 14-15
Indigenous Beauty: Masterworks of American Indian Art from the Diker Collection, David Penney et al., New York, NY, Skira Rizzoli, 2015, pg. 177
RELATED EXAMPLES
National Museum of Man, NMM-G-820 - See: "Bo'jou, Neejee!", Brasser, National Museum of Man, 1976, pl. 80
Field Museum of Natural History, Chicago, (Cat. No. 15563) - See: American Indian Art, Feder, Harry Abrams Inc., New York, 1965, plate 216
Western Reserve Historical Society, Cleveland, No. 43,2972, See - The Spirit Sings, Glenbow Museum, McClelland and Stewart, 1987, plate W100
Museum Fur Volkerkunde, Vienna, No. 11.969 - See: Uber Lebenskunst, Feest, Museum Fur Volkerkunde, Vienna, 1993, plate 46
This outstading 18th century shoulder bag encapsulates the world view of native inhabitants of the Great Lakes region. It is the only known exmple so replete with iconic imagery. The thunderbird, turtle, human figure and circle motif representing the earth and the four winds, each have a unique place within Eastern Woodlands cosmology.
Perhaps even more significant is the appearance of this bag in two early calotype images. Thess images of Kahkewaquonabi (the Reverend Peter Jones), the important Anishinaabe religious leader and historian, in generally considered to be among the earliest photogaphic images of a Native American. They were taken by Hill and Adamson during a visit by Jones to England on August 4, 1845. One of the images now resides in the National Portrait Gallery, London, England (see: King, J.C.H., Thunderbird and Lightning, London, 1982, pl. 70), the other in the Amon Carter Museum, Fort Worth, Texas. The decorated coat Jones is wearing in the photograph is now in the National Museum of Natural History, Smithsonian Institution, Washington (See: The Spirit Sings, Glenbow Museum, 1987, pl. W129)
Related Publications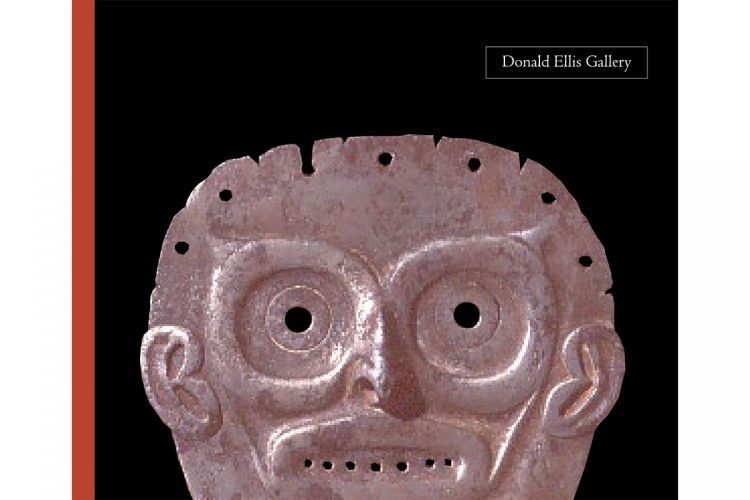 $30.00 USD