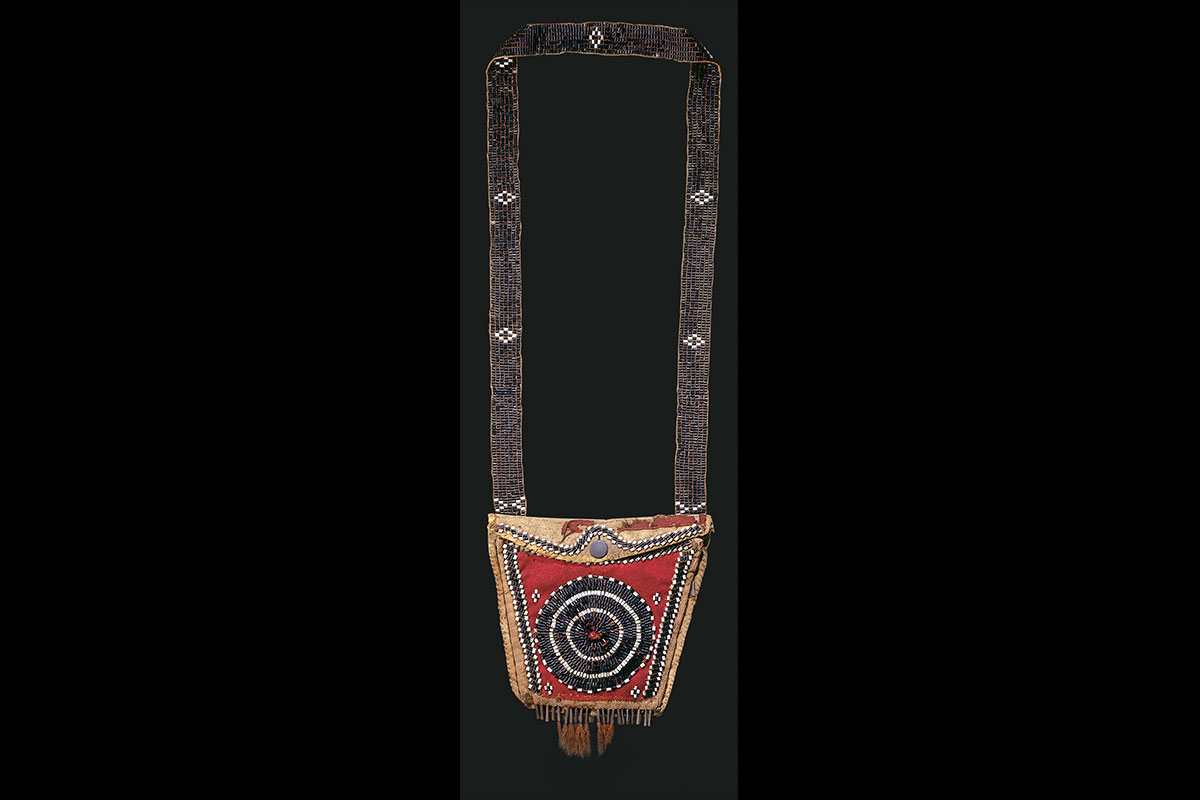 Views
Shoulder Bag
Eastern Woodlands
ca. 1760-80
tanned hide, cloth, glass beads, tin cones and deer hair
pouch: 8" × 7"
strap length: 30"
Inventory # CW4314-169
Please contact the gallery for more information.
Prior to European contact, beads were manufactured primarily from shell. The edge of the quahog clam (Mercenaria mercenaria) provided the raw material for purple beads, while the columns of univalve whelks (Busycon sp) supplied the material for white beads. With the introduction of metal tools, large quantities of cylindrical beads could be made by drilling through the center of the shell. The finished product was known as wampum. Primarily manufactured by Algonquian speaking peoples of coastal New England, Iroquoian women, and later by Dutch immigrants in bead factories, wampum would become common currency in the developing fur trade.
The use of glass to produce imitation wampum beads become prevalent in the later part of the 18th century, evidenced by this shoulder bag (CW4313-169). One of the few known to survive, these bags are more readily observed in paintings and engravings of the period. A closely related example was collected during the American Revolution by a German mercenary soldier, August Wilhelm Du Roi, now in the collection of the Braunschweigisches Landesmuseum, Germany.
PROVENANCE
Anthony Plowright, London, England
Michael Johnson, Walsall, England
John Arieta, London, England
Fred Bochan, Philadelphia, PA
Sotheby's, New York, 11/29/88, lot 75
Lee Lyon Collection, Aspen, CO
Donald Ellis Gallery, Dundas, Ontario
Private collection, Toronto, Ontario
PUBLISHED
Donald Ellis Gallery catalogue, Toronto, 2001, pgs. 32-33
RELATED EXAMPLES
Braunschweigisches Landesmuseum, Cat. No. FRG VM 7250 – See: Glenbow Museum - The Spirit Sings: Artistic Traditions of Canada's First Peoples, Toronto: McClelland and Stewart, 1987, pg 48, pl. W50, for a rare early pouch fashioned of glass wampum beads
The British Museum, London – See: King, J.C.H. First People, First Contacts. London: British Museum Press, 1999, pg. 48, pl. 39
Previous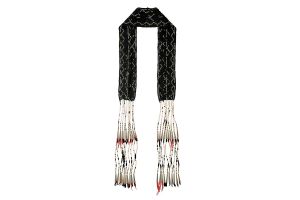 18th century
CW4314-165
Next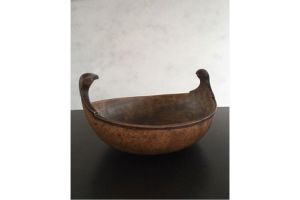 ca. 1840
CW4314-163
See more