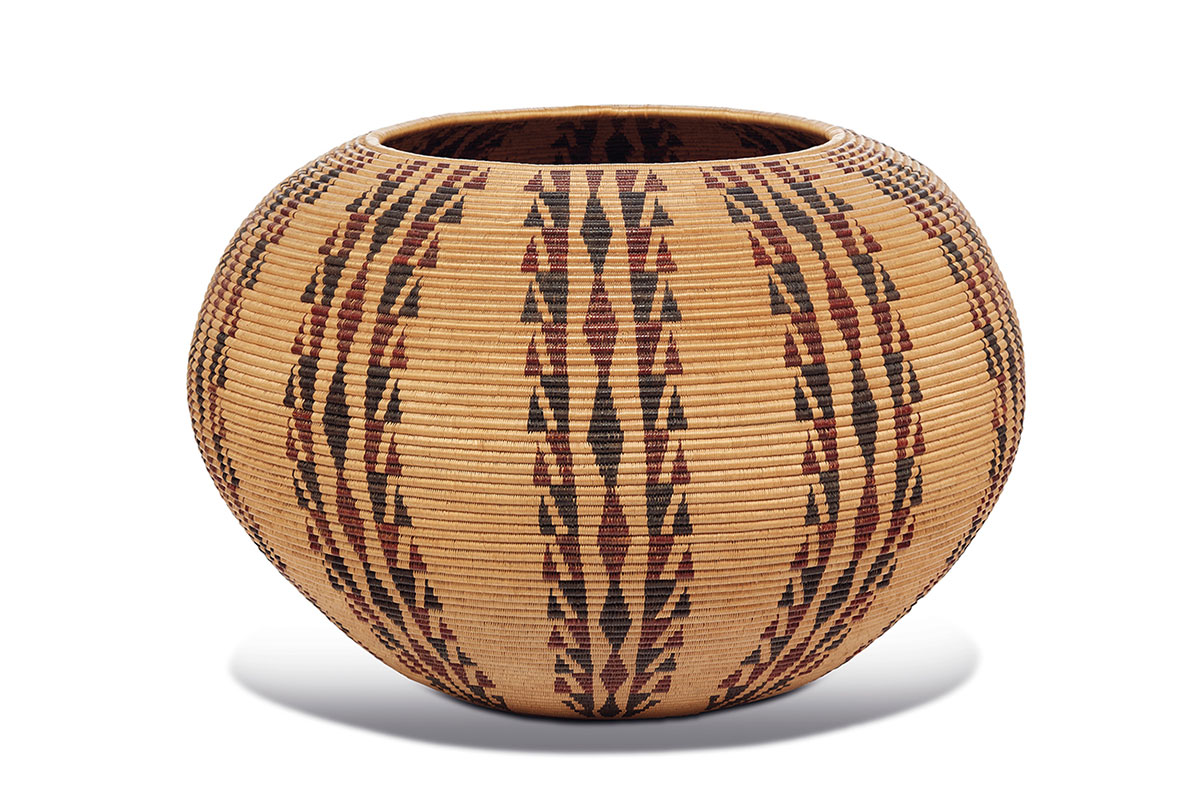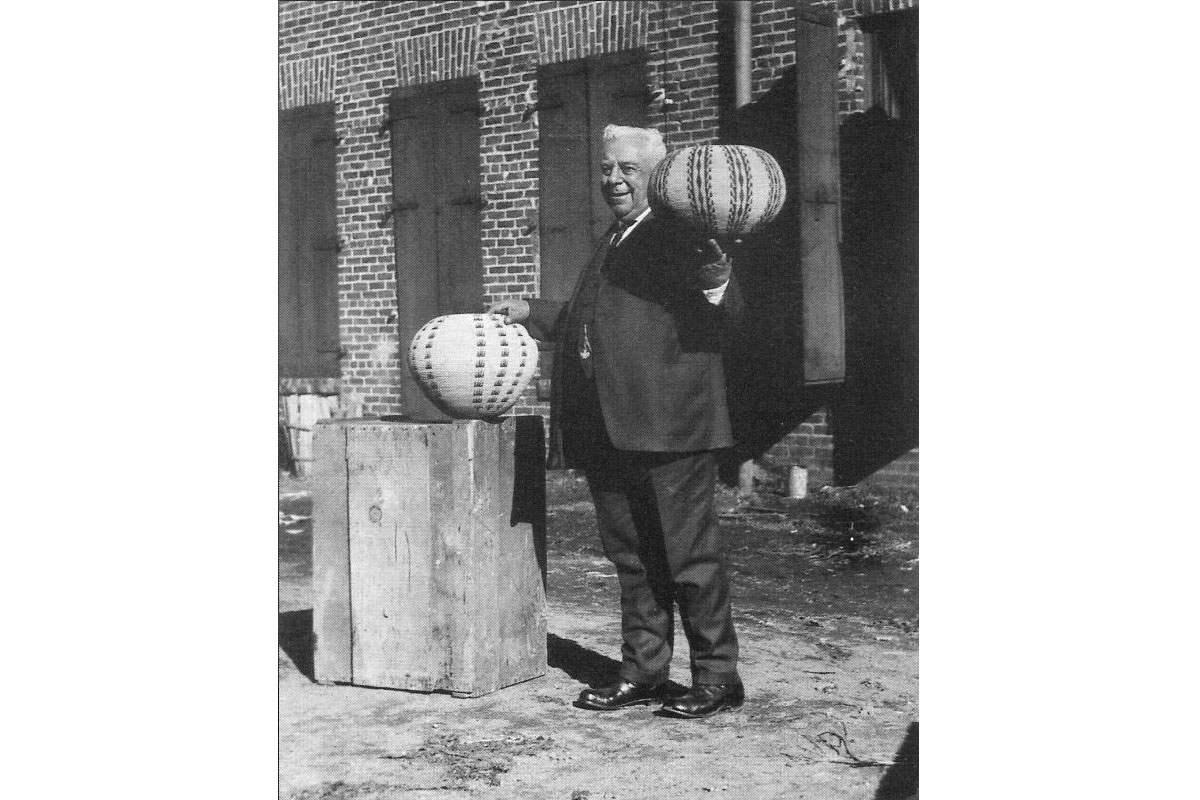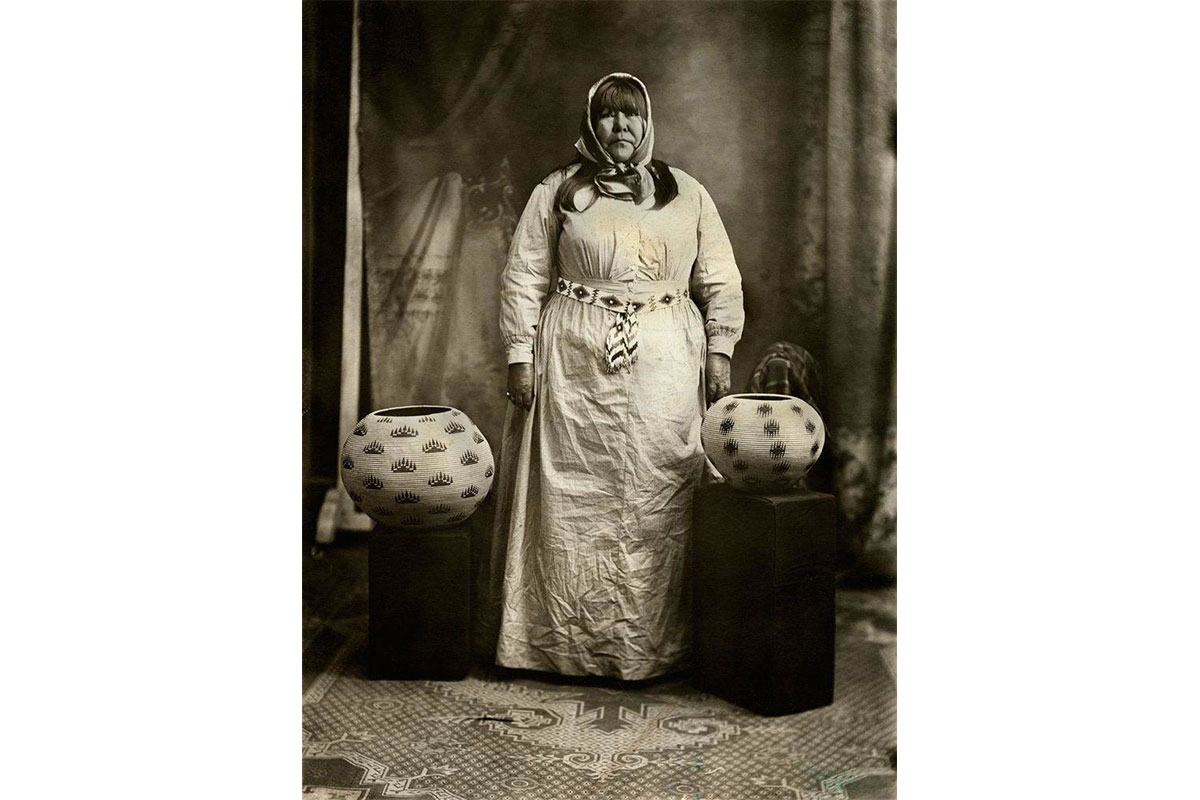 Our Ancestors Were Great Hunters
Louisa Keyser (Dat So La Lee, 1850-1925)
Washoe
Nevada
ca. 1905
willow, bracken fern root, red birch bark
height: 10"
width: 14"

Inventory # S4426
Please contact the gallery for more information.
Provenance
The Emporium Company, Carson City, Nevada, obtained from the artist September 6, 1905
Gallery 10, Scottsdale, Arizona, February 1990
Private collection, Arizona
Published
Cohodas, Marvin Phd, Dat So La Lee's Basketry Design, in: American Indian Art magazine, Autumn, 1976, pg. 30. fig. 20
Related Examples
For related baskets and an essay on Louisa Keyser's work see: Cohodas, Marvin Phd, Dat So La Lee's Basketry Design, in: American Indian Art magazine, Autumn, 1976, pgs. 22-31
Coe, Ralph T., Brydon, Sherry, Vincent, Gilbert T. (eds.) Art of the North American Indians: The Thaw Collection. Seattle: University of Washington Press, 2000, pg. 285, pl. T751
Bernstein, Bruce and McMaster, Gerald (eds). First American Art: The Charles and Valerie Diker Collection of American Indian Art. Seattle: University of Washington Press, 2004, pg. 238, pl. 187
Louisa Keyser, also known as Dat So La Lee (1850–1925), is celebrated today as the most accomplished basketry artist of the late 19th and early 20th centuries. Distinguished by her exceptional craftsmanship, Keyser pushed the techniques, forms and relatively plain surface designs of Washoe basketry to create impressive visually-driven works for sale on the art market. From 1895 to 1925 she worked under the patronage of Abe and Amy Cohn, owners of the Emporium Company in Carson City, Nevada. It was during this period that Keyser developed the "degikup style" she is most famous for; large spherical baskets formed on a broad flat base.
A distinctly modern weaver, the present coiled basket epitomizes Keyser's unrivaled artistic innovation, expanding out into the maximum circumference before tapering to a narrow opening at the top. Variations of her distinctive flame motifs in red and black are arranged in vertical columns across the entire surface of the basket. The technical superiority of her weaving, averaging 30 stitches to an inch, allows for an even spacing and exact alignment of individual units, setting her work apart from that of all other Washoe basket-makers. The resulting visual effect is of exceptionally refined elegance.
Propelled by the Arts and Crafts movement of the early 20th century, Keyser's baskets were already highly sought after during her working career. The Cohn's took great care to document each basket individually, issuing certificates of authenticity that helped create a sizeable field of collectors. The present basket is listed as LK43 in the Emporium Company archives and is entitled "Our Ancestors Were Great Hunters". It was Amy Cohn who created names for the artist's baskets and the many stories relating to Keyser and her innovative designs. An early photograph shows Abe Cohn holding basket LK43, as if presenting it before the camera. Listed at $5,000 in the company ledger, LK43 commanded a sum previously unheard-of for the work of a Native American artist.
This outstanding work is one of only a handful of baskets of this scale and importance for sale in the last half-century. Two of the other baskets, featuring a more common "scatter design", are now in the Charles and Valerie Diker Collection of Native American Art at the Metropolitan Museum of Art, New York and the Eugene and Clare Thaw Collection at the Fenimore Art Museum, Cooperstown. A third basket was sold by this gallery in 2008 and is now in an American private collection.