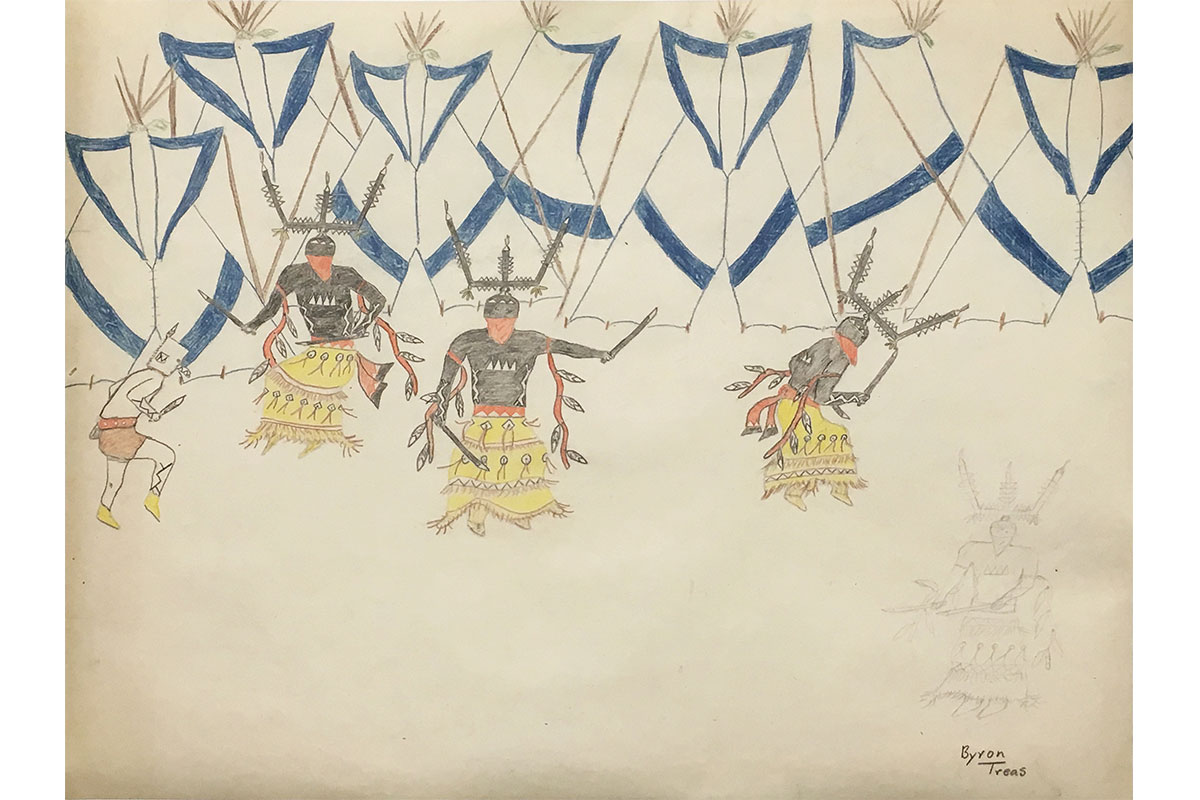 Views

Drawing "Ga'an Dancers"
Attributed to Byron Treas
Mescalero Apache
New Mexico
early 20th century
colour pencil on paper
signed "Byron Treas" lower right
16" × 20"
24" × 28 ½"
Inventory # S4304
Please contact the gallery for more information.
This finely executed drawing depicts White Mountain Apache Ga'an dancers, also known as "crown dancers". The four Ga'an dancers representing the four directions were called upon for healing and rites of passage such as puberty ceremonies. The Ga'an dancers were painted either black or white and decorated with lightening designs and other motifs of special meaning. A fifth dancer is painted gray and serves as a messenger to the spirit world.
RELATED EXAMPLES
Haffenreffer Museum of Anthropology, Providence, RI, Cat. No. HMA 77-189 – For a painted robe by the Chiricahua Apache Chief Christian Naiche, showing Ga'an dancers performing at a puberty ceremony (Collected from the artist in 1911).
National Museum of American Indian, Washington DC, Cat. No. 2/1417 – For another painted robe by Chief Christian Naiche, showing Ga'an dancers performing at a puberty ceremony (Collected by Mark Raymond Harrington in 1909 during fieldwork sponsored by George Heye.)
Philbrook Art Center – for a work entitled "Apache Fire Dance" showing similarly attired Mountain Spirit (Ga'an) dancers by Al Momaday, Chiricahua, Apache – See: La Farge, Oliver. A Pictorial History of the American Indian. New York: Crown Publishers Inc., 1956
Arizona State Museum, Cat. No. ASM Neg. 56661) for a painting of a Ga'an dancer by Curry Clawson – See: Ferg, Alan (ed.) Western Apache Material Culture:The Godwin and Guenther Collections. Tucson: University of Arizona Press, 1987, pg. 124
Previous
ca. 1900
S4347-1
Next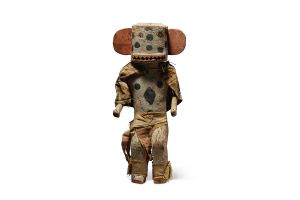 ca. 1900
S4347-2
See more