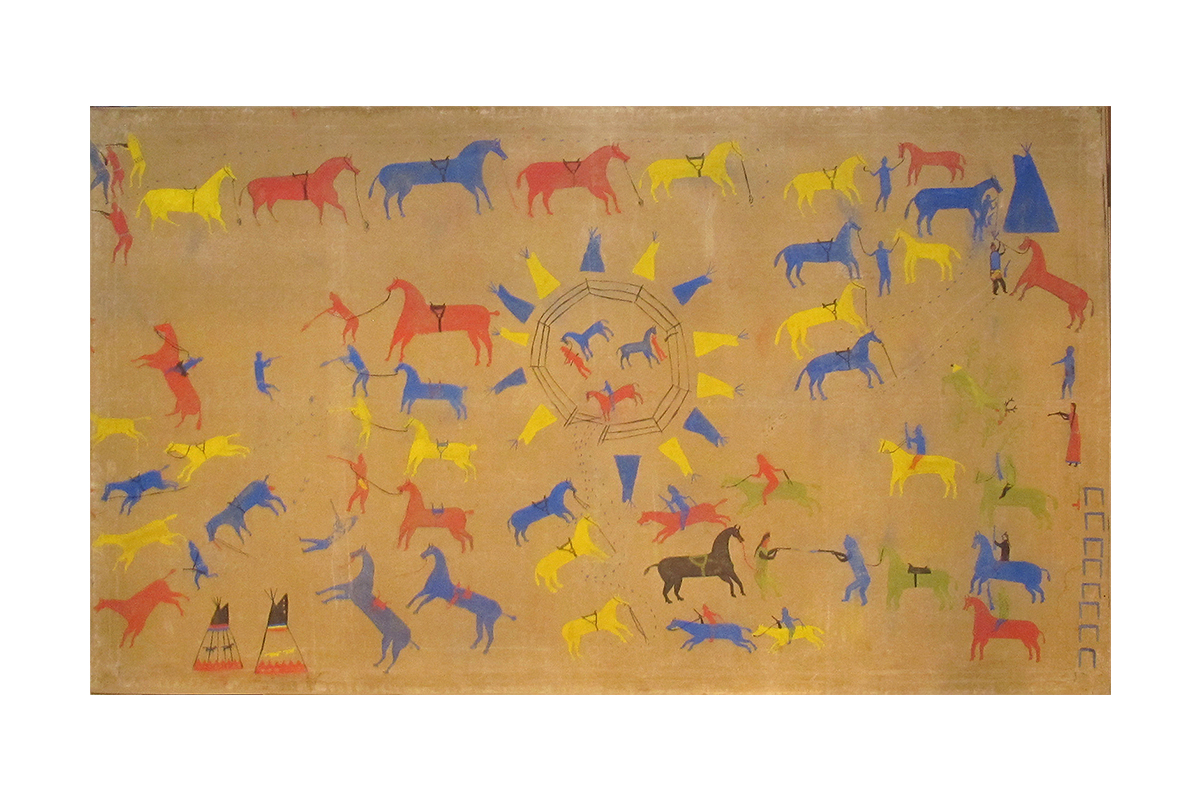 Views
War Record
Attributed to Big Spring (b. 1865)
Blackfoot
Northern Plains
ca. 1915
canvas, paint
57 ½" × 105"
Inventory # P4323
Sold
This painting by Big Spring is one of a number of panels painted by elderly Blackfoot warriors for display in three hotels built by the Great Northern Railway in Glacier National Park, Montana, to promote tourist travel to the West. The panels are described in L. James Dempsey's Blackfoot War Art: Pictographs of the Reservation Period, 1880-2000, University of Oklahoma Press, 2007, pgs. 352 and 387:
"A number of war record panels were displayed in the three Glacier Park hotels for which [very few] images are known to have survived. However, two typed records of the war experiences are in the archives of the U.S. National Parks Service office in West Glacier. One is an undated fourteen-page draft of an illustrated booklet that apparently was never published. Another is a sixteen-page document containing war records of a dozen elderly South Piegans. Both documents describe details of personal war exploits in such a way as to accompany illustrations. According to one document, "The Indians whose lives are pictured on the canvas are the oldest living chiefs of the Peigans. They painted their own histories and interpreted them thru one of their number who spoke Piegan and English tongues."
BIG SPRING (SOUTH PIEGAN) PANEL
Big Spring was born in 1865, the son of Wolf Bedding and Many Necklace. His wife was Rabbit Old Woman. He was a comparatively young man, noted in his day for his prowess as a horse raider. At the time when the interview was done with him he was one of the largest horse owners in the Peigan tribe.
Referring to his panel, in the upper right-hand corner is shown an attack on Big Spring by some Crows who were hiding in the bushes. Big Spring shot one of them and stabbed the other with a spear. His horses are shown picketed above. Below is shown a raid he and some friends made on the Gros Ventres. He drove them away but did not get their horses.
In the center he shows the fight in which his brother was killed. Big Spring entered a corral that belonged to the Cheyenne and drove out all their horses. In the upper right-hand corner he is shown with his brother taking horses from the Flatheads. Below he shows an incident that occurred "only a few year ago" near his home on the reservation. He and his wife came across an elk. He let his wife have his gun and she shot the elk. In the lower left-hand side of the picture he displays his lodges. One of them was called the Mink lodge and the other was the Fox lodge. Below in the right-hand corner of the section he designates the number of successful horse raids he made. The man with the pipe beside him represents a horse taken from a chief." (Dempsey 2007)
Related Examples
Science Museum of Minnesota, St. Paul, See: Dempsey, James, L. Blackfoot War Art: Pictographs of the Reservation Period, 1880-2000. Norman: University of Oklahoma Press, 2007, colour plate 19, for detail of a 50' canvas panel commissioned by Glacier Hotels (Great Northern Railway) in the 1920's showing in part the exploits of Arrow Top Knot
Science Museum of Minnesota, St. Paul - See: Ibid, 22 and 23 for two other panels commissioned by the Great Northern Railway showing in part the exploits of White Quiver and Green Grass Bull
Ibid - See: colour plates 20 and 21 for hand coloured photographs of panels commissioned by the Great Northern Railway reproduced from the booklet "Picture Writing by the Blackfeet Indians of Glacier National Park" (Eagle Calf and Heavy Breast)