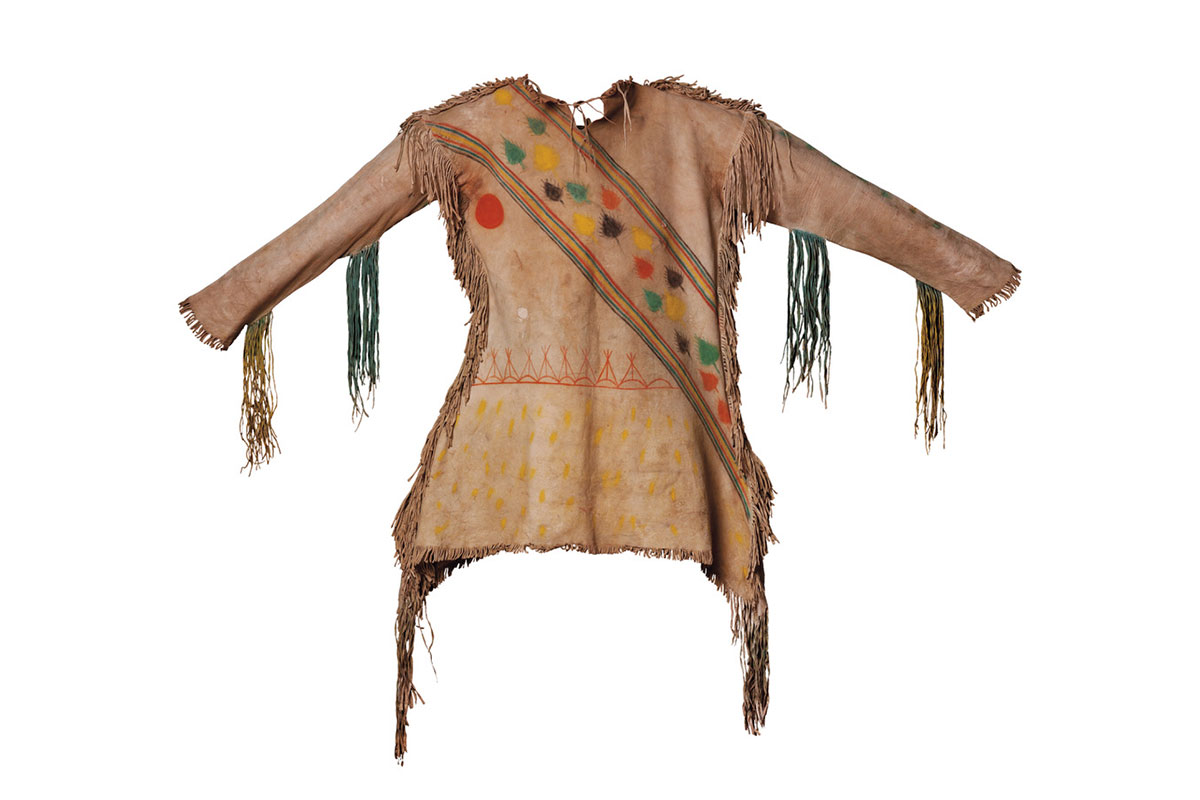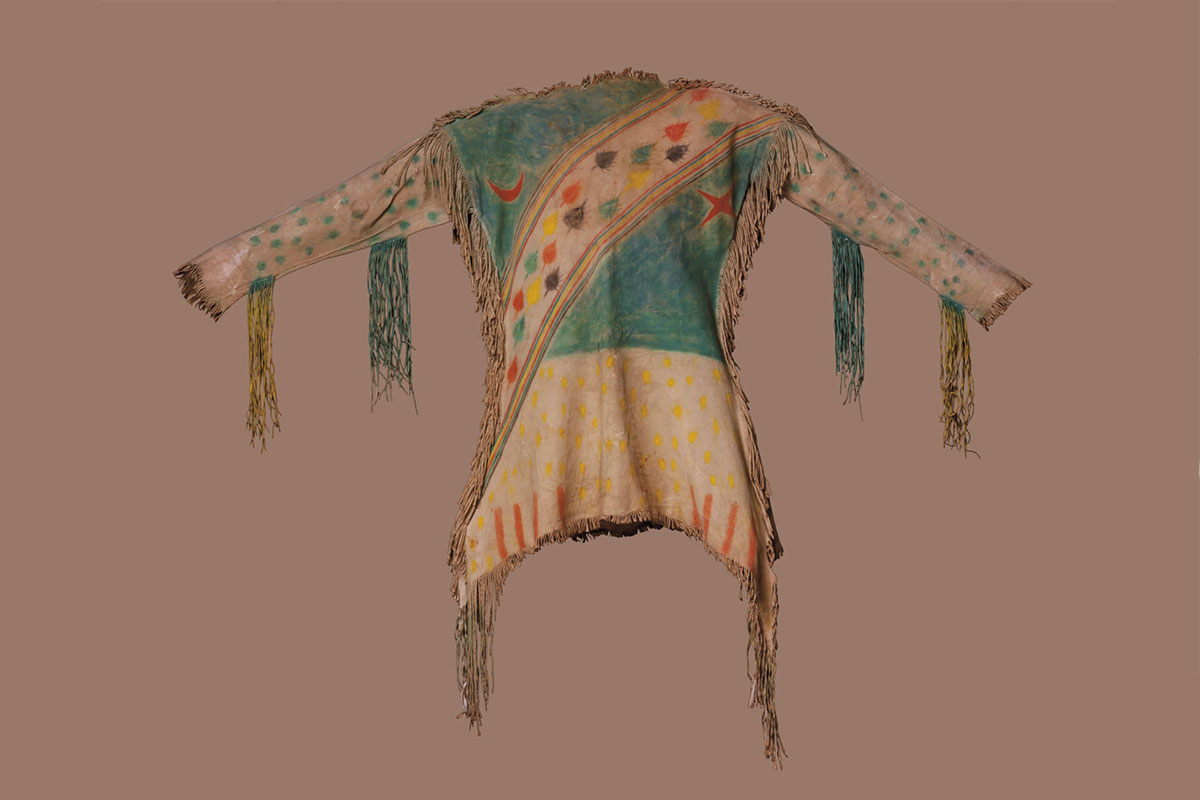 Views

Man's Shirt
Southern Cheyenne or Arapaho
Southern Plains
ca. 1890
hide, paint, cotton thread
width at top: 64" (sleeve to sleeve)
width at base: 32"
length: 46"
Inventory # P3336
Sold
PROVENANCE
Descended through a family in Tulsa, Oklahoma
Larry and Alyce Frank, Arroyo Honda, NM
RELATED EXAMPLES
Paul Dyck Research Foundation, Rimrock, AZ, No. 10786 – See: Peterson, Harold (ed.).
I Wear the Morning Star: an Exhibition of American Indian Ghost Dance Objects. Minneapolis: Minneapolis Institute of Arts, 1976, pg. 39
Grand Teton National Park – See: Eder, Josephy, Thomas (eds.). Lest We Forget Wounded Knee. Cody: Buffalo Bill Historical Society, 1990, No. 15.
Grand Teton National Park, no. 1131 – See: Walters, Anna, Lee. The Spirit of Native America. San Francisco: Chronicle Books, 1989, pg. 58.
Essay
The iconography displayed on this impressive garment directly relates to imagery seen on clothing and ceremonial paraphernalia pertaining to what has generally been termed the Ghost Dance, the widespread messianic Native American movement of the late 19th century.
The shirt displays a number of significant motifs associated with the Ghost Dance. As many of the dances were performed at night, the full and crescent moons are represented as a full red disc and a red crescent. The crescent may also signify the horns of a buffalo, the primary source of sustenance for Plains people. During the Ghost Dance, a club-like wand with buffalo horns affixed to form a crescent is waved over the participants as though to gather and hold their prayers. The crescent may also symbolize a pair of hands upraised for blessing. The Morning Star appears as a four-pointed star, while the line below a row of tipis horizontally crossing the front of the shirt possibly represents the earth.
However, the most striking aspect of this garment is the artist's unique rendering of what appears to be a series of cedar trees in red, black, green and yellow pigments. Perhaps imitating the baldrics or sashes in common use in non-native society, the artist has demarcated a path-like swath, bandolier fashion diagonally across the body of the shirt. The cedar tree signified everlasting life, an eternal life lived in the traditional ways of the time prior to European contact. On each side of this bandolier is a bright multi-coloured border, the rainbow being yet another important symbol of Ghost Dance iconography. These pictorial elements combine to form a wonderful composition, and together with the artist's sensitive use of colour, create a work of exceptional beauty.
Previous
Tie Creek Ledger (pages 137 and 138)
Cheyenne, Central Plains
ca. 1870
P4138-137
See more