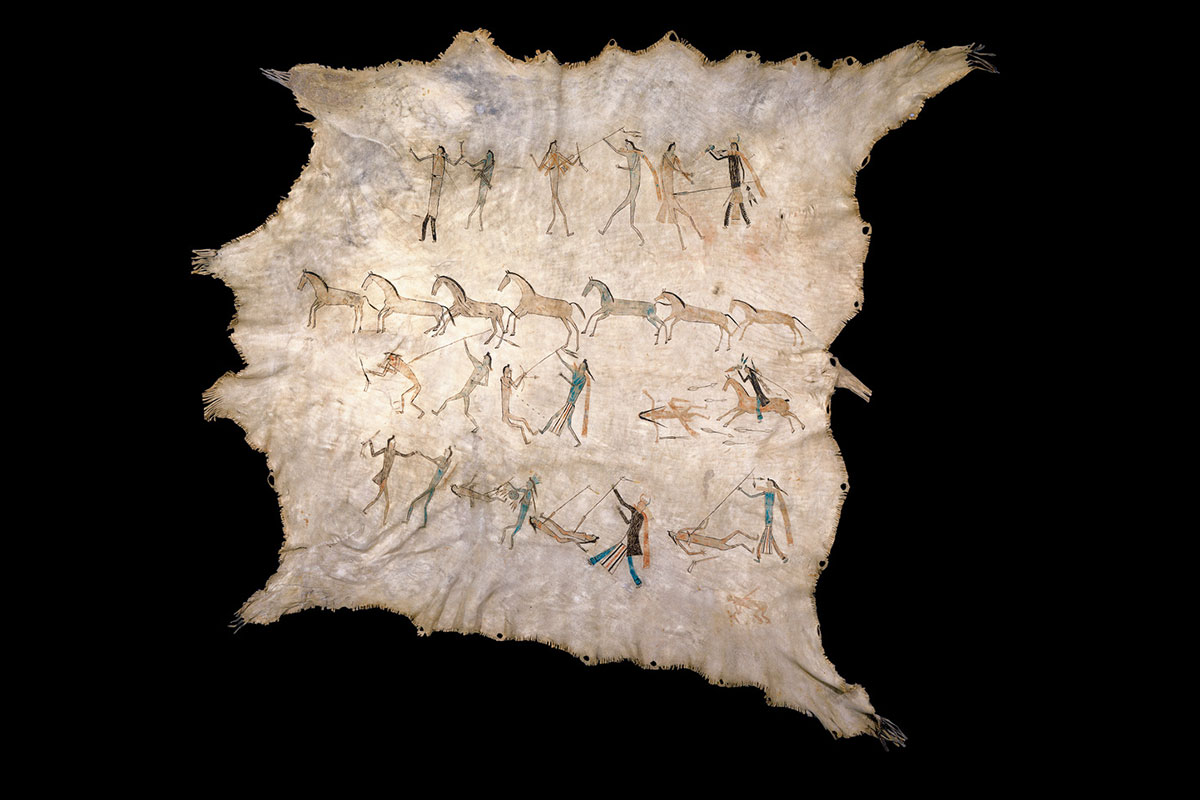 Buffalo Robe
Apsáalooke
Northern Plains
ca. 1850
buffalo hide, paint
height: 85"

Inventory # CP4199
Sold
Provenance
Collected by Lt. Frederick Denison (1846-1896)
PUBLISHED
Donald Ellis Gallery catalogue, 2005, pg. 27
Robes of buffalo or elk hide were the ubiquitous garments of Plains Indian society. Native men treated their wearing robes as sign boards on which to advertise their martial accomplishments, which formed the social currency of both individuals and families. The majority of these robes memorialized the accomplishment of a single individual, usually the artist. The robe illustrated here conforms to this type.
This important robe was collected by Lt. Frederick Charles Denison, soldier, adventurer, author and politician, likely during a trip to the Red River area during the Rebellion of 1869-70. Denison remained in Manitoba after the uprising for nearly a year as aide-de-camp to Lieutenant Governor Adam George Archibald (Cooke, O.A. "Frederick Charles Denison" (in Dictionary of Canadian Biography, vol. XII). Toronto: University of Toronto Press, 1990, pg. 243).
Although the multitude of figures on this robe might suggest a confusion of action, there is in fact a discrete order to this composition. The personal duel was the acme of Plains Indian warfare. While there were doubtless many incidents of large scale battle, it was the personal encounter that was highlighted and remembered. What the robe depicts is a series of encounters that the artist, always depicted on the right, his body painted blue, experienced over several years.
Eight of the ten right hand protagonist figures display a style of hair dressing that is common to the Apsáalooke, as are the vertical striped breech cloths. The sashes found in several of the vignettes, characteristic of the Apsáalooke Big Dog Warrior Society, also help define tribal attribution.
The images seen here include several rarely found in Plains pictography, such as barefoot warriors and a rare depiction of an antagonistic sign language gesture. More importantly, however, is the surprising depiction of a Northwest Coast dagger which can be seen in two separate vignettes. This dagger is shown with a large triangular blade, the haft carved to represent a zoomorphic image, possibly a bird. This highlights the intricacies of an intertribal trade connection between the Pacific Northwest and the mountain interior of present day Wyoming. How such a weapon traveled more than 1500 miles inland, passing by trade or capture from one admiring owner to the next, was doubtless an odyssey.
It appears that less than twelve of these Apsáalooke exploit robes from this early period have survived to the present day. This robe is not only a masterpiece of Plains artistic achievement, but also a remarkable visual document of the life of a 19th century Apsáalooke warrior.
Related Publications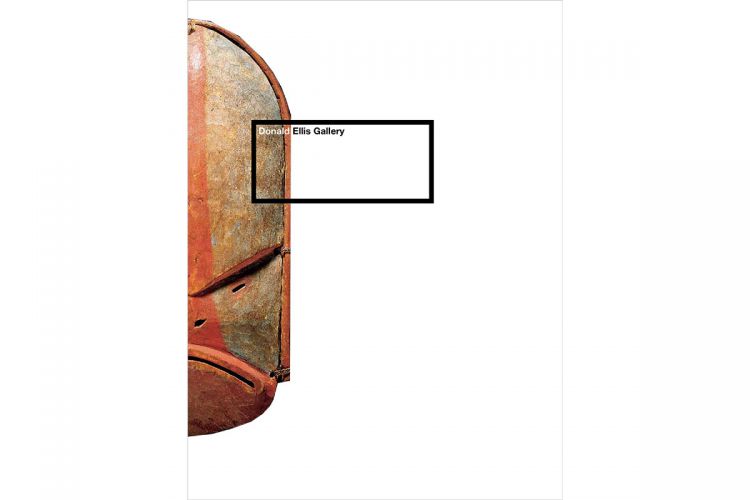 Out of print