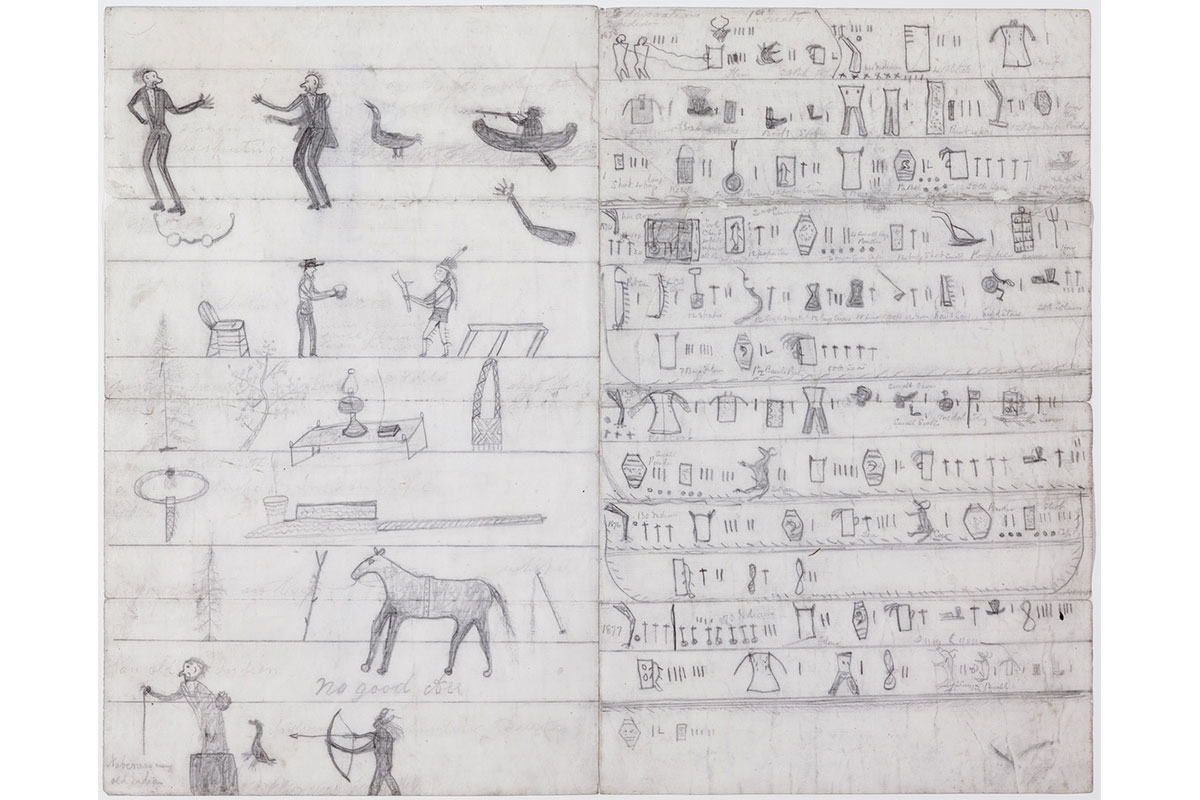 Pictographic Treaty Record
attributed to Chief Paskwaw, 1828-1889
Anishinaabe
Northern Plains
ca. 1875-83
graphite on paper
height: 13"
width: 16 ½"

Inventory # CP3360
Sold
Provenance
Collected at Fort Qu'Appelle, Saskatchewan, by William Henry Barneby in the summer of 1883
Published
Life and Labour in the Far, Far West: Being Notes of a Tour in the Western States, British Columbia, Manitoba, and the North-West Territory, William Henry Barneby, London, Cassel & Company, 1884
Donald Ellis Gallery catalogue, 2006, pgs. 24-25
To develop relationships with the indigenous peoples of the New World, the British, unlike their French and Spanish competitors, relied on formal treaties. Of the 18th century British treaties with Native Americans, the best known is that pertaining to the Iroquoian Five (later Six) Nations. This treaty, called the Covenant Chain, was concerned largely with military alliance, and the Iroquois' need to protect their territory (see: Jennings 1984). Lacking a written language, the Iroquois used wampum belts to record 18th century treaty relationships. Manufactured from shell, wampum was woven to form designs and pictographs used as mnemonic devices explaining the treaties. An appointed elder would repeatedly tell the story using the images on wampum belts to communicate their meaning (see: Schaaf 1990).
The first treaty signed in what is now Western Canada was negotiated by Thomas, Earl of Selkirk, in 1817, to establish the Hudson's Bay Company's Red River Colony in what is now Southern Manitoba. Selkirk promised to pay the Natives 200 pounds of tobacco each year in return for their surrender of land titles (see: Morris 1880, pgs. 303-309). The first Prime Minister of Canada, Sir John A. Macdonald, recognized that an important priority of his government was to obtain the legal surrender of Indian land in advance of white settlement in the West. To this end, a series of numbered treaties were initiated, beginning with Treaty One in 1871.
In September 1874, negotiations were held between William Morris, the chief negotiator for the Canadian government, and representatives of the Plains Cree, Anishinaabe and Plains Assiniboine peoples who inhabited the area south of the South Saskatchewan River. Negotiations began very badly and sputtered along through a series of misunderstandings. There were three fundamental problems: a political split between the Cree and most of the Salteaux, the "sale" of the Hudson's Bay Company territory to Canada, and the Company's trading activities (see: Morris 1880, pgs. 87-123). These misunderstandings were never resolved, yet the treaty was signed on September 15, 1874. This document became know as Treaty Four. A witness to the negotiations wrote: "The Chiefs then signed the treaty, after having been assured they would never be ashamed of what they then did" (see: Morris 1880, pgs. 122-3).
Present at these negotiations was Chief Paskwaw, the author of the extraordinarily rare and important drawing illustrated here. The left section of the drawing contains Paskwaw's pictographic record of what transpired at the negotiations, while the right hand panel appears to depict the treaty provisions provided by the government. If Paskwaw's record is accurate, it is clear that the supplies he recorded were well below what the treaty stipulated.
In the late summer of 1883, William Henry Barneby, an Englishman on a whirlwind tour of North America, journeyed to an Indian camp east of Fort Qu'Appelle, Saskatchewan. It was here that Barneby was introduced to Paskwaw, who acted as host. Barneby was particularly interested in Chief Paskwaw's appearance, describing it at length, and was impressed by a speech "remarkable for its apparent fluency". More remarkable is Barneby's reference to this encounter in a later publication in which he writes: "a few days later I was given a paper drawn by this chief [Paskwaw] showing everything he has received from the Government; it really is a great curiosity" (see: Barneby 1884, pg. 217).
Written sources that aid treaty interpretation are very rare, particularly contemporary sources that touch directly on Native American understandings of the process. In this context, Chief Paskwaw's pictographic treaty record is an intriguing and important piece of North American history.
Related Publications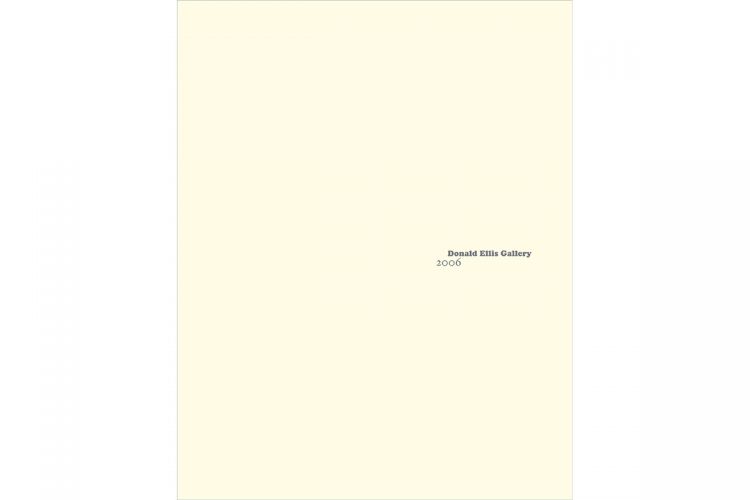 $35.00 USD