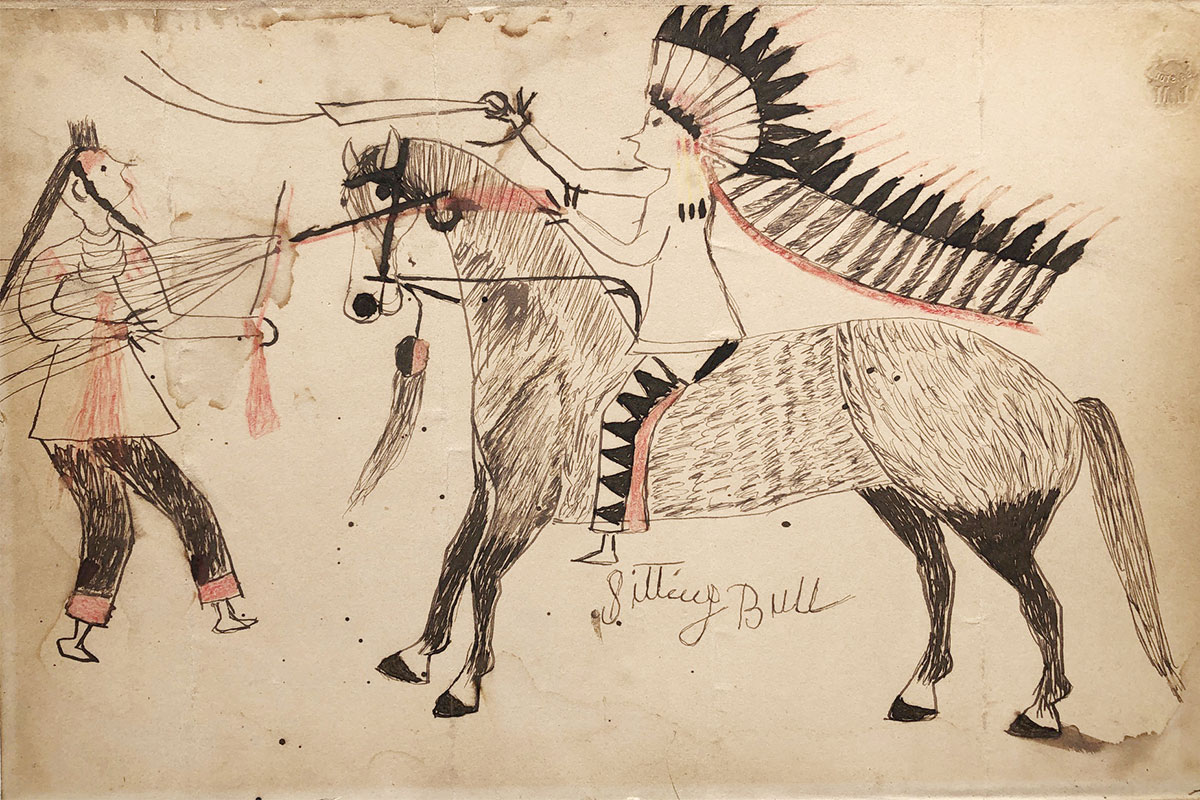 Ledger Drawing
possibly Tatanka Yotanka (Sitting Bull, 1831-1890)
Hunkpapa Lakota
Northern Plains
ca. 1890
ink and coloured pencil on paper
height: 8 ¼"
width: 12 ¼"

Inventory # P4349
Please contact the gallery for more information.
A handwritten inscription in the bottom half of the page reads "Sitting Bull"
Attributing 19th century Plains Ledger Drawings to particular warrior artists is a relatively new endeavour and one fraught with complications. This image depicting the great Lakota Chief Tatanka Yotanka (Sitting Bull, ca. 1831-1890) relates to two groups of drawings now housed in the National Anthropological Archives at the Smithsonian Institution: the Smith Pictographic Record and the Pettinger Pictographic Record. Each of the two groups of images was beyond doubt created by Tatanka Yotanka while he was incarcerated at Fort Randall in 1882. Compellingly, there is a third, earlier group of drawings which dates back to 1870, known as the Kimball Pictographic Record. The great warrior left these documents with his adopted brother Jumping Bull, who incorporated them with drawings of his own feats. These images were copied by their uncle, He Topa (Four Horns, ca. 1814-1887) and later became known as the Kimball Record. The location of the original Sitting Bull drawings is not known. Stylistically, the subject drawing relates more to Sitting Bull's hand than to his uncle's, however, there are several significant differences evident which raise the possibility that there was a third artist recreating the exploits of this legendary Lakota warrior.
RELATED EXAMPLES
National Anthropological Archives, Smithsonian Institution, 1929-B – for a book of 22 drawings by Sitting Bull collected by Lieutenant Wallace Tear, at Fort Randall, Dakota Territory in 1882 – See: Maurer, Evan, M. Visions of the People: A Pictorial History of Plains Indian Life. Minneapolis: Minneapolis Institute of Arts, 1992, pgs. 220 and 211, pls. 177-180