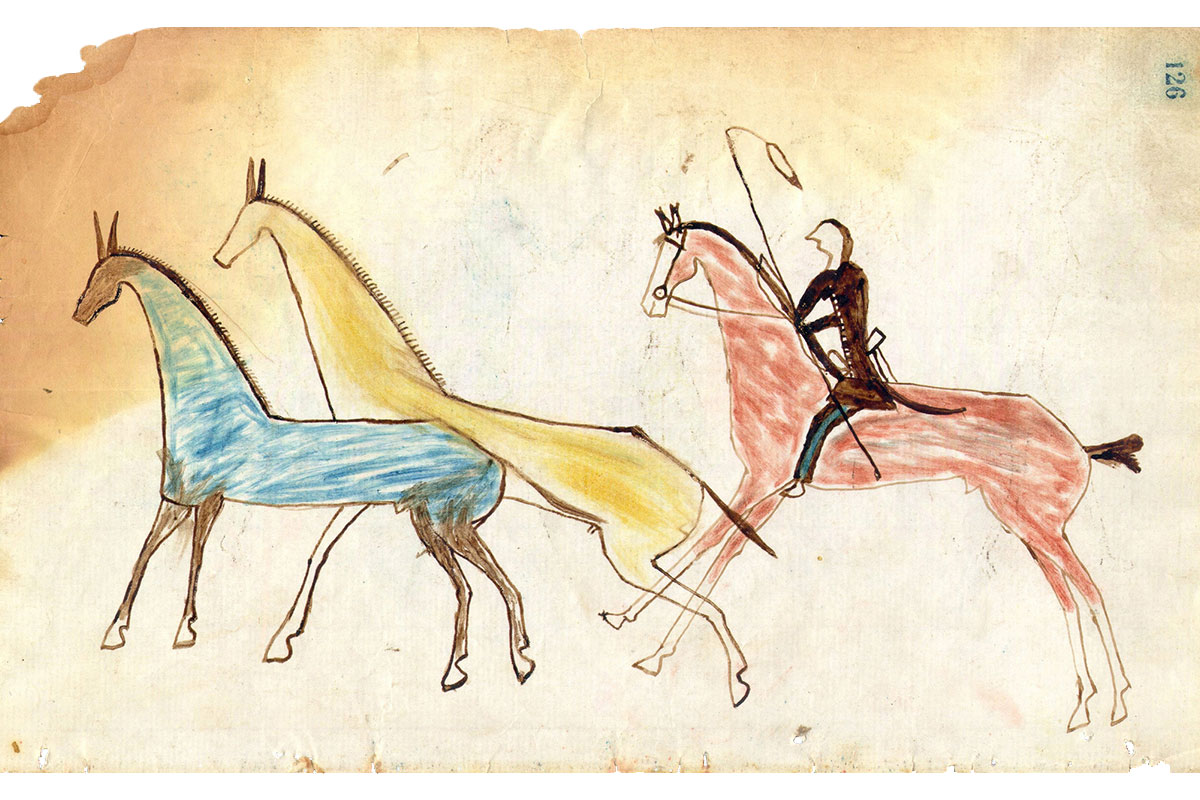 Ledger Drawing
anonymous artist
Tie Creek Ledger Book (pgs.126 and 125)
Cheyenne
Central Plains
ca. 1870
recto/verso
ink, graphite and coloured pencil on paper
height: 7 ¾"
width: 12 ½"

Inventory # P4138-126/125
Please contact the gallery for more information.
This drawing is page 126 from the Tie Creek Ledger Book. The image depicts a raid and is likely autobiographical. Dressed in a Western jacket and Calico pants, the mounted warrior successfully urges two mules, distinguished by their short bodies and long ears, away from their original owners. The Tie Creek Ledger is an impressive example among a body of early ledger books created by Native American warriors across the North American plains to record their martial feats and visions quests. Made by an anonymous Cheyenne warrior circa 1870, the pages of the Tie Creek Ledger were penned with a variety of drawing instruments: ink, graphite, colored pencils and natural pigments. From the assortment of drawing materials and the numerous hunting, raiding, combat and visionary scenes created with them, a contextual map of this warrior's quickly changing life can be gleaned. Native American sovereignty had been greatly compromised following the signing in to law of the Indian Removal Act by President Andrew Jackson in 1830, almost fifty years prior to the creation of this ledger. The author of the Tie Creek ledger drawings would have been distinctly aware of the omnipresent threat of removal posed by the advancement of Euro-American settlers on the western frontier. Like other ledger artists of his day, the author availed himself of the new materials at hand to record the last days of nomadic warrior traditions on the Plains.