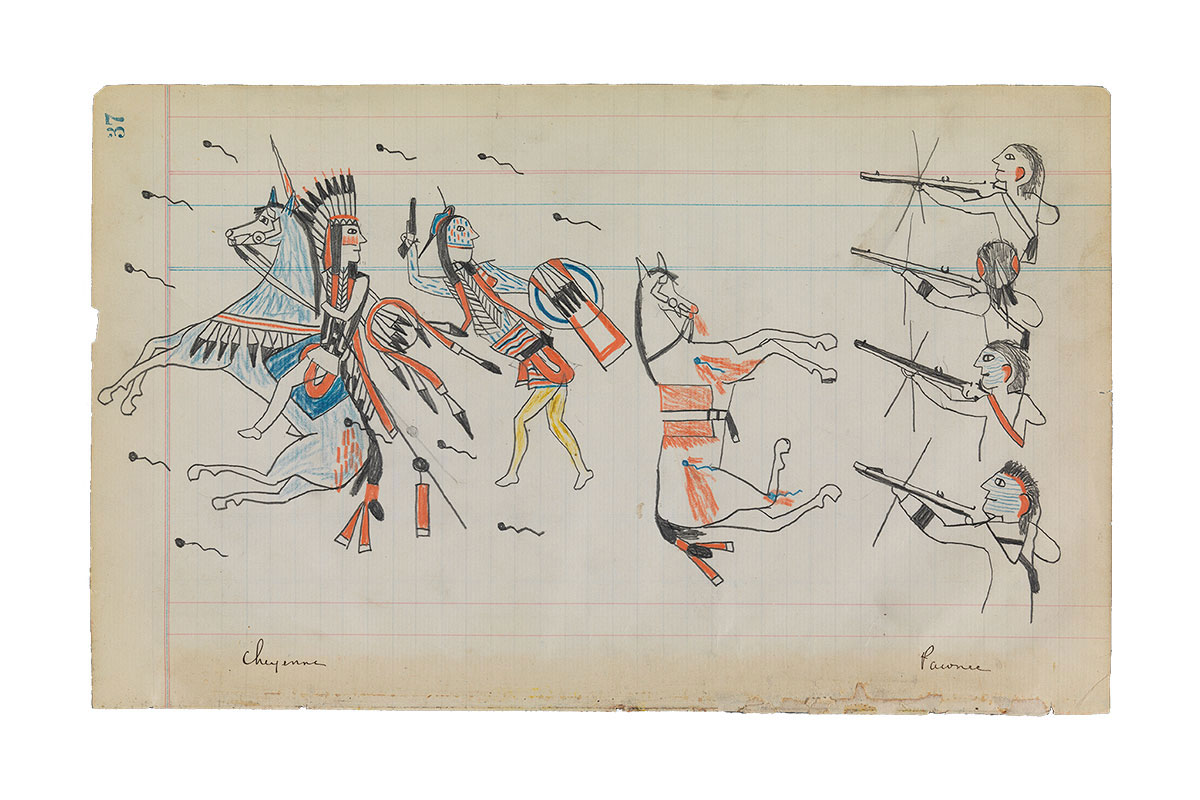 Ledger Drawing
anonymous artist
Julian Scott Ledger Book (pg. 37)
Kiowa
Southern Plains
ca. 1880
graphite, crayon and coloured pencil on lined paper
height: 7 ½"
width: 12"

Inventory # P4020b
Sold
Two handwritten inscriptions on the bottom left and right of the page respectively read "Cheyenne" and "Pawnee."
Exhibited
​Fairfield University Art Museum, Picturing History: Ledger Drawings of the Plains Indians. Fairfield, CT, September 27 - December 20, 2017
The Julian Scott Ledger Book consists of fifty drawings created by two, possibly three Native American warriors of the Kiowa nation. First collected in the vicinity of Fort Sill, Oklahoma, it has tentatively been dated ca.1880. Each drawing in the ledger relates to life on the Southern Plains before and during the early reservation period — a time characterized by sweeping political change that was marked by the displacement of Native Americans across the entire Great Plains. While the names of the Kiowa artists who drew the compositions in this book remain unknown to us, we are able to identify at least two distinct artists' hands. Following convention, the artist of the pair of drawings included in this exhibition has come to be known as Julian Scott Artist A, referencing the name of the first non Indigenous owner of this ledger book. Each work depicts a detailed battle scene between the Kiowa and the Pawnee. The images are annotated with inscriptions dating to the 19th century, attempts to distinguish the identity of the two warring peoples in each scene. One caption, appearing on page 91, accompanies the image of a spider in the top corner of a ceremonial dance scene. It reads: 'This is in imitation of a bug that was crawling across the page, while the Indian was drawing.' The inscription predates the acquisition of the ledger book by the American artist Julian Scott at Fort Sill by almost a decade. For now, it remains unknown exactly who made these annotations except that they were certainly made by a non-Indigenous person that came in contact with one the ledger's artists in 1880.

The second recognizable artist, known as Julian Scott Artist B, contributed only four drawings to this ledger. Despite the sparsity of this output, one of the drawings, an extraordinary depiction a group of twelve Kiowa men in ceremonial dress, is now in the Charles and Valerie Diker Collection at the Metropolitan Museum of Art.