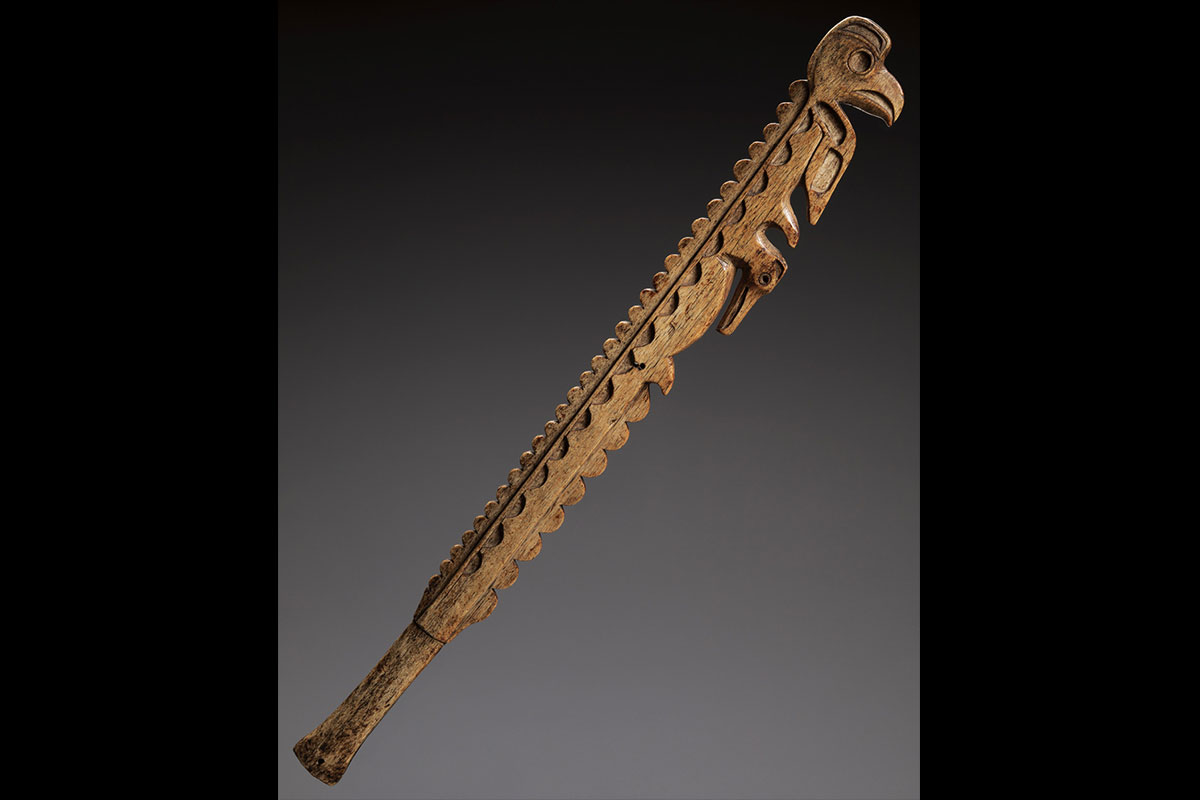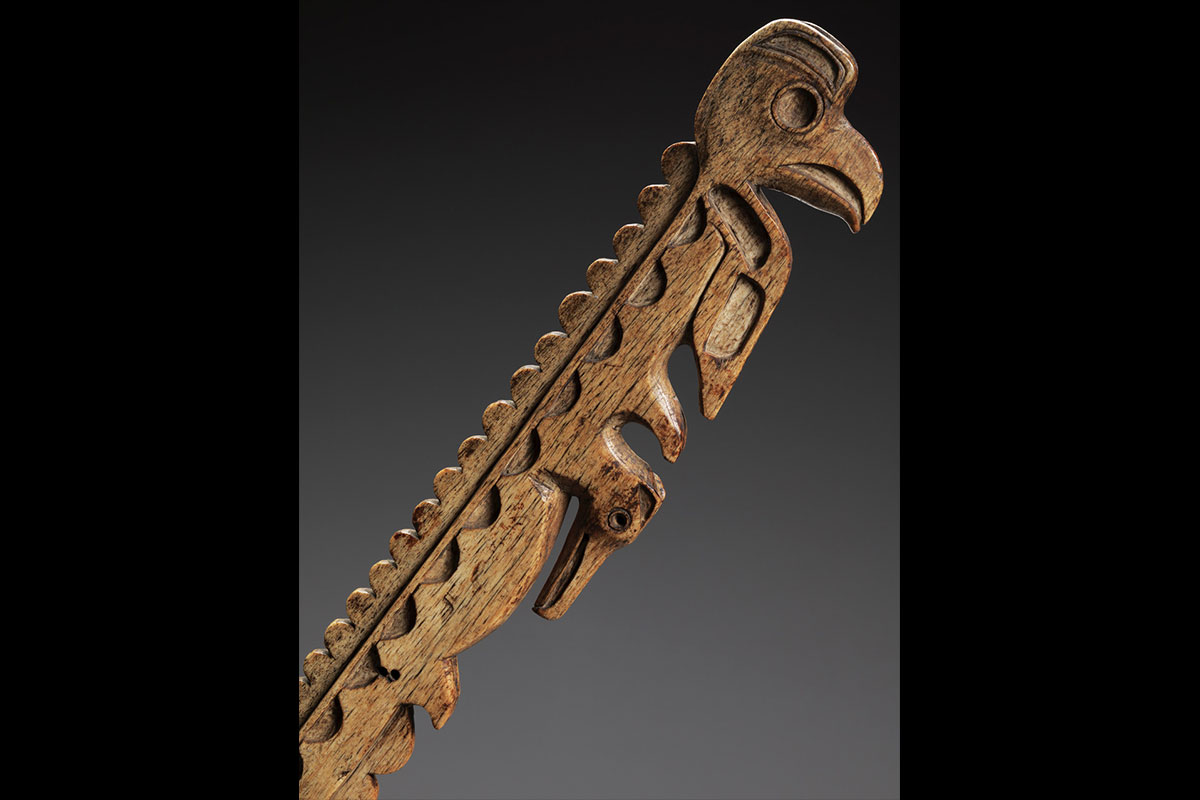 Views


Whale Bone Club
Central Coast, British Columbia
ca. 1820-40
whale bone
length: 33 ¼"
Inventory # N3631
Sold
Essay
Clubs were once ubiquitous weapons on the Northwest Coast of British Columbia at a time when intertribal and inter-clan warfare was a common occurrence. Often carved from wood or stone, some of the most impressive Northwest Coast clubs were carved from whale bone. The lower jaw of a whale provided the thickest and strongest material available to a club maker. Lighter than stone examples, and also tougher, their fibrous nature made bone clubs less prone to breakage. While wooden clubs were designed for dispatching large fish or seals, stone and bone clubs appear to have been more often employed as weapons of warfare and symbols of high family status, passed down through heredity.
The outstanding club illustrated here is unusually large, carved with great refinement and exhibits a highly unusual group of design images. Its exact geographic origins, however, are somewhat difficult to ascertain, as tribal attribution without firm collection history is not always readily apparent. The Nuu-chah-nulth tribes of the west coast of Vancouver Island and the neighboring Makah of northwest Washington State were whale hunters, and therefore had direct access to the harvesting of whale bones. These groups were well known for carving whale bone clubs, the shapes of which appear to have been traditionally limited to minor variations of a particular ancient form.
The general style of this club is similar to others from the northern coast, including examples carved in wood, suggesting a parental connection to that region. The finely carved rounded lobes on the back edge of this club relate to an example carved with two-dimensional formline design in a Haisla or Coast Tsimshian style, now in the Seattle Art Museum. The shapes on both these clubs bear a remote but visual relationship to certain formidable South Pacific weapons made from wood with either shark teeth or obsidian blades inlaid along the edges.
The figures on this club vary somewhat from the stylized forms one more often sees in mid coast sculpture, and are far more abstract than usual. The finely sculpted top figure appears to be an eagle with its wing in profile. The ear and the relieved area within it are rendered in a style that has more in common with northern coast work than to the southern coast traditions such as seen among the Nuu-chah-nulth. The carver's use of ovoid shapes in the wing, rather than U-shapes or crescent forms also seems to suggest a carver with more affinity to the northern formline tradition. These ovoid shapes are carved out in a way that suggests they may once have held shell inlays. Also represented here is a long-beaked bird, possibly a raven or thunderbird, and an abstracted whale figure.
All these features seem to indicate an origin for this club somewhere between the north end of Vancouver Island and the Heiltsuk territory of the north-central British Columbia coast. Without a greater presence of traditional sculpture and design, it's not possible to make a more specific attribution of the club to a particular group.
The texture and rich color of this exceptional club display a pleasing degree of wear and polish suggesting considerable age. The monumental scale lends the air of something far grander than a weapon, more likely a ceremonial staff created for an important person or occasion.
Steven C. Brown, October, 2009