Wand
Multnomah (?)
Lower Columbia River, Washington or Oregon
Pre-Contact
elk antler
width: 10"

Inventory # CN4313-153
Sold
PROVENANCE
Reportedly found at the St. John site Lower Columbia River, in 1961 by Ray Hofferber, Tigard, OR
Bill Henderson, Olympia, WA
Donald Ellis Gallery, Dundas, ON
Private collection, Toronto, ON
Published
Donald Ellis Gallery catalogue, 2003, pg. 5
Related Examples
Burke Museum, No. 2-3844 – See: A Time of Gathering, Wright, University of WA Press, Seattle, 1991, pl. 77
Field Museum of Natural History, Chicago, Cat. No. 87603 – See: Feder, Norman. American Indian Art (shorter edition). New York: Harry N. Abrams Inc., 1973, fig. 102
Chicago Natural History Museum, No. 19693 - See: American Indian Sculpture, Wingert, Hacker Art Books, New York, 1976, pl. 61 (1) for a horn dish displaying a skeletal figure holding a wand
Some of the most elegantly simple and beautiful sculptures from the Northwest Coast originated on the Lower Columbia River in the territory of Chinookian speaking peoples. These groups include the Chinook proper, the Cathlamet, the Multnomah and others who lived below The Cascades. This intriguing bone object, said to have been found east of Sauvies Island on the Columbia River, may have originated from the Multnomah, whose territories were in that region.
The encroachment of Euro-Americans during the exploration period beginning in the late 18th century caused great distress to Chinookian peoples. Smallpox, malaria and other unfamiliar diseases took a huge toll on these cultures. The Multnomah succumbed almost entirely to malaria in the 1830's, and the few who did survive were taken in by neighboring tribes.
The true function of this object is not known, as its fragmentary state does little to describe its former purpose. It may have been the property of a shaman practitioner, perhaps part of a staff or wand. The well-defined yet shallow relief of the sculpture reveals a humanoid spirit image that appears to combine a human-like body form with a head that is equally human and amphibian in appearance. The prominent brow, eyes and central nose line is typical of Chinookian face sculpture, while the geometric treatment of the ribs and appendages has a softer, more rounded feel than many of the Columbia River artifacts from farther upriver. Perhaps it is this aspect that contributes to the lively, animated impression one receives from this elegant, yet mysterious object.
Related Publications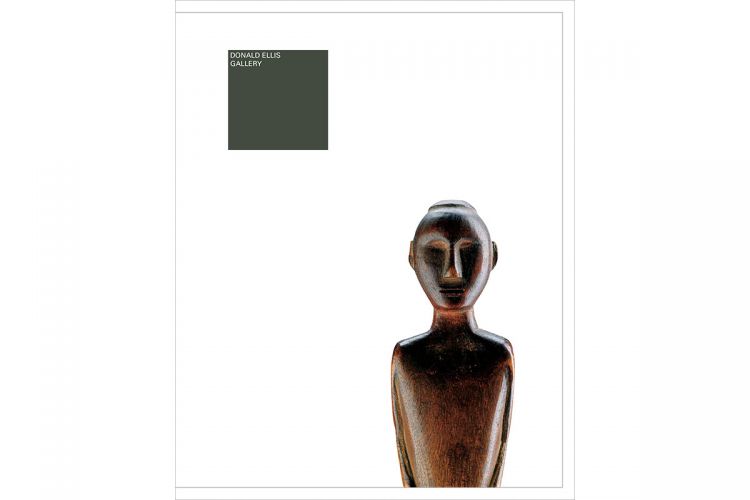 $30.00 USD