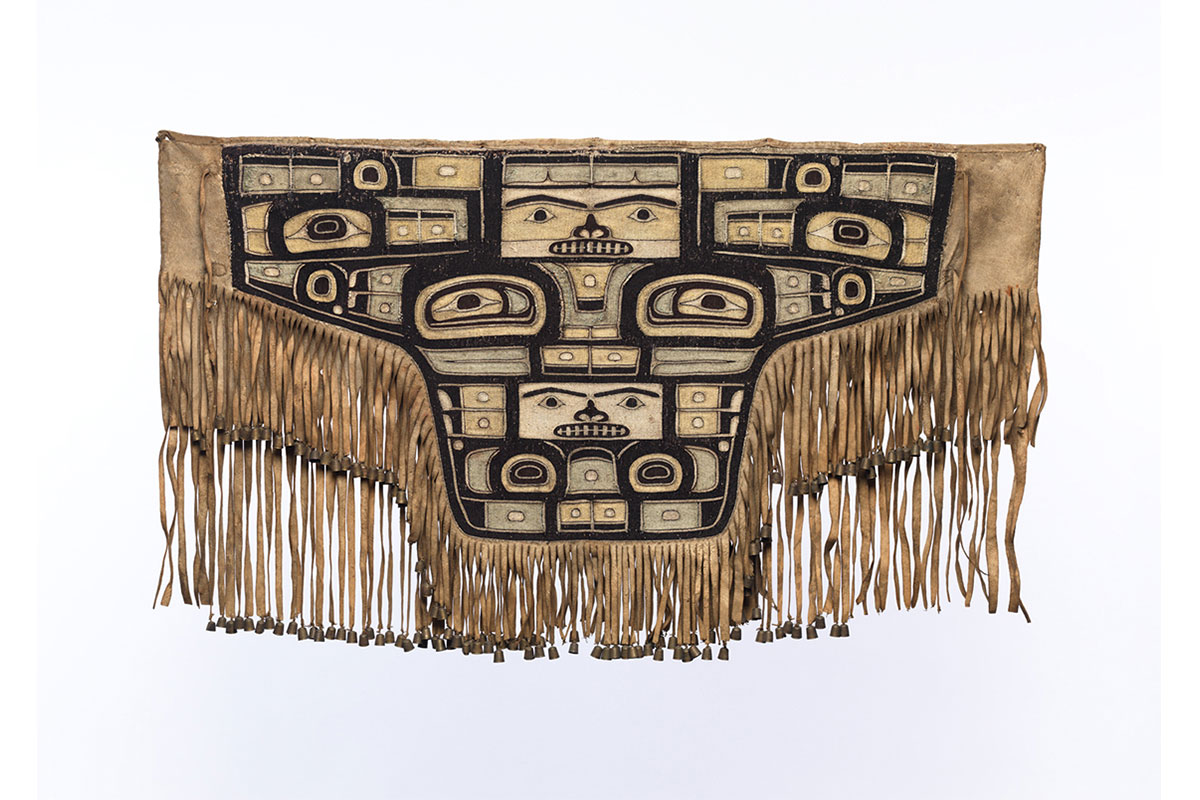 Shaman's Dance Apron
Chilkat Tlingit
Southeast Alaska
ca. 1840
mountain goat wool, cedar bark, hide, brass thimbles
height: 25"
width: 42"

Inventory # N4169
Sold
Dance aprons from the Chilkat Tlingit are exceedingly rare. There are few known examples, most of which appear to be in museum collections.
Provenance
This dance apron was collected by the distinguished naval officer Admiral Robert E. Coontz at Sitka, Alaska, in the 1880's. It is speculated that the apron was given to Coontz during the Potlatch of 1885, as the photograph "Sitka Indians before a Pot Latch" is reproduced in the autobiography of Admiral Coontz entitled "Mississippi to the Sea".
By descent through the Coontz family
Related Examples
Peter the Great Museum of Anthropology and Ethnology, Russian Academy of Sciences, St. Petersburg - Cat. No. 593-28 – See: Tlingit: Catalogue of the Kunstkamera. Berezkin (ed.). St. Petersburg, 2007, pg. 134, pl. 151
American Museum of Natural History, New York, Cat. No. E2602 – See: Wardwell, Allen. Tangible Visions: Northwest Coast Indian Shamanism and its Art. New York: The Monacelli Press, 1996, pg. 287, pl. 435, for an example collected by Emmons at Klukwan between 1884-93
American Museum of Natural History, New York, Cat. Nos. 16/348 and 16/349 and 2 others (No. numbers) all collected by Emmons – See: Emmons, George T. The Chilkat Blanket (Reprint). Sitka: Sheldon Jackson Museum, 1993, pgs. 392, 393 and 394, figs. 585a, 586, 587 and 588.