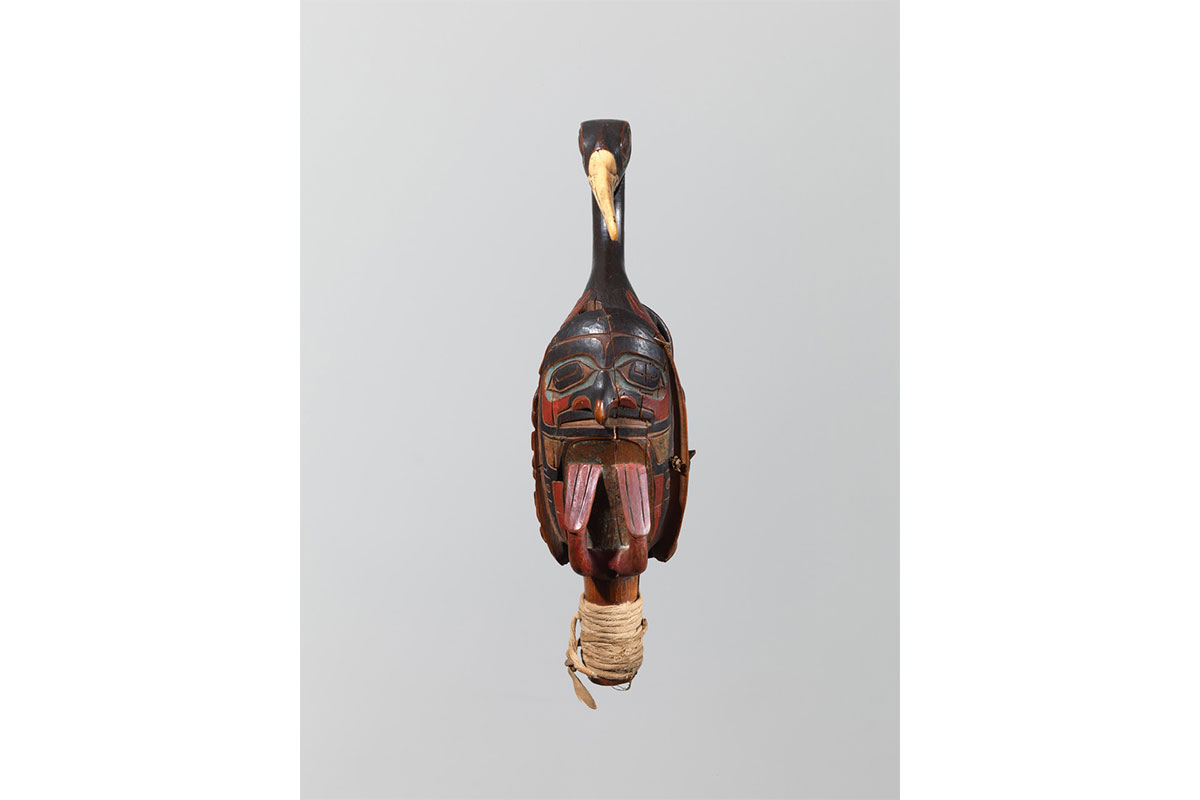 Oystercatcher Rattle
attributed to Kadjisdu.acxh II
Tlingit
Southeast Alaska
ca. 1770-1790
wood, paint, vegetal fiber, marine mammal ivory
width: 12 ⅝"

Inventory # N4337
Please contact the gallery for more information.
PROVENANCE
Collected by Dr. Hugh S. Wyman (1858-1913), then by descent through the family, being part of a collection of Native American artifacts assembled by Dr. Hugh S. Wyman and his brother, Dr. Hal C. Wyman.
Dr. Hugh S. Wyman was Assistant Surgeon stationed at Sitka, Alaska, aboard the U.S.S Pinta, serving alongside the eminent ethnographer and field collector George T. Emmons. Following his Navy commission, Wyman resided at Douglas Island and Juneau, AK, before establishing a medical practice in Olympia, Washington, in 1899.
RELATED EXAMPLES
Museum of Mankind, London, Cat. No. 1944.am.2.125 (the Beasley collection) – See: Wardwell, Allen. Tangible Visions: Northwest Coast Indian Shamanism and its Art. New York: The Monacelli Press, 1996, pg. 262, fig. 398 for an oystercatcher rattle attributed to Kadjisdu.axch
Museum of Anthropology and Ethnology, St. Petersburg, Russian, Cat. No. 211-2 – See: Ibid, pg. 270, fig 411 for another oystercatcher rattle attributed to Kadjisdu.axch
American Museum of Natural History, Cat. No. E2208 – See: Ibid, pg. 313, fig. 470 for a guardian figure attributed to the same artist from Dry Bay, Alaska, collected by Emmons in 1893