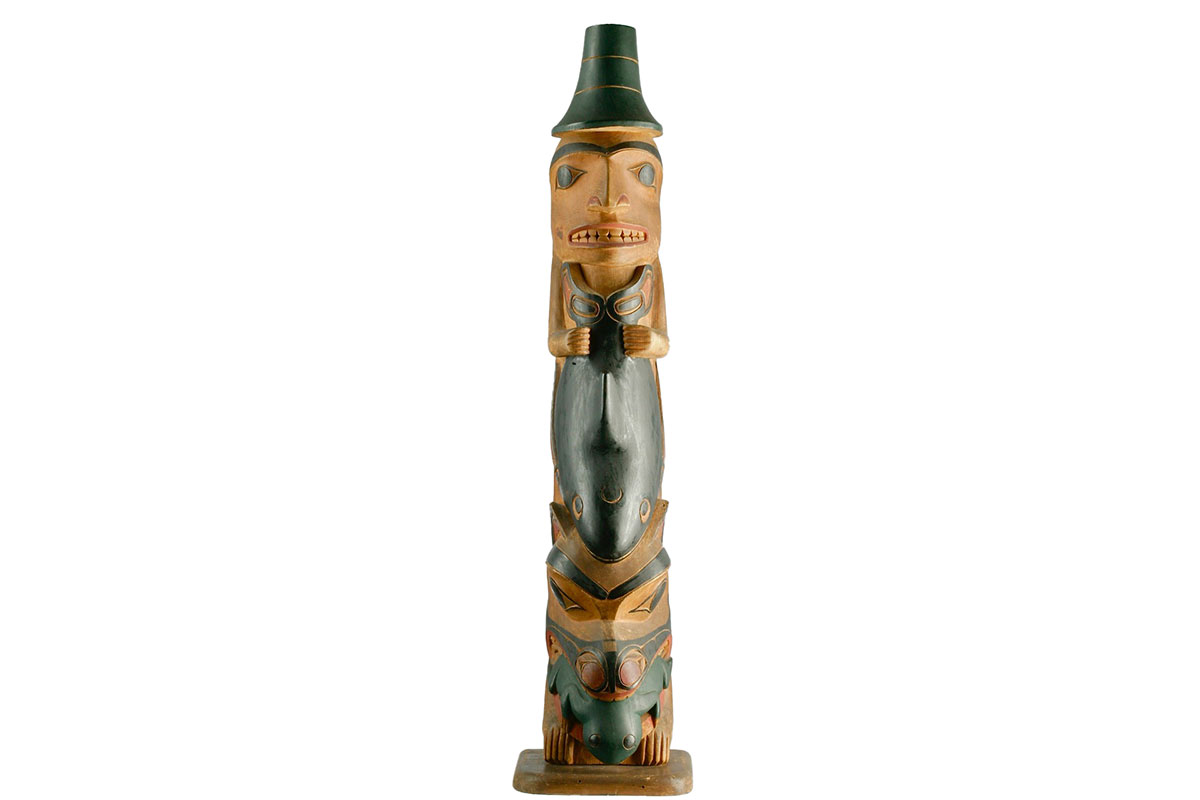 Model Totem Pole
attributed to John Cross, 1867-1939
Haida
Haida Gwaii, British Columbia
late 19th/early 20th century
wood, paint
height: 29"

Inventory # CN3691
Sold
PROVENANCE
Collected by the anthropologist Marius Barbeau (b.1883 d. 1969) at Prince Rupert British Columbia in 1915 from a second hand dealer Pilipson who had obtained it directly from the Haida
A translated transcription of Barbeau's notes reads:
"Small totem, carved and painted (about 25" in height) representing Gunas or The Strong Man who holds between his arms a whale, the head below, that he will tear apart. At the base of the totem, the Grizzly with a frog in his mouth. Purchased at Prince Rupert, BC, in 1915, from the second hand dealer Philipson, who had obtained it in his dealings with the savages, from a Haida. One of the best examples of its kind."
Harold Groves Collection, Toronto, ON
Donald Ellis Gallery, Dundas, ON
Private collection, New York, NY
PUBLISHED
Donald Ellis Gallery catalogue, 2011, pg. 64
RELATED EXAMPLES
For a discussion of the works of John Cross see: Marius Barbeau, Haida Carvers in Argillite, Bulletin No. 139, Anthropological Series No. 38, Ottawa: National Museum of Canada, 1957, pgs. 123 - 129
For a discussion of the Strong Man myth among the Haida and numerous examples of model totem poles based on this theme see: Marius Barbeau, Haida Myths illustrated in Carvings, Bulleting No. 127, Anthropological Series No. 32, Ottawa: National Museum of Canada, 1953, pgs. 327-337
Featured in the Press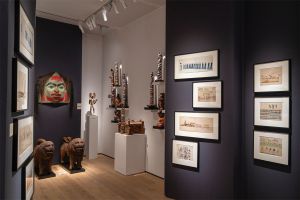 FAD Magazine has selected Donald Ellis Gallery as one of five "must-see booths" at TEFAF New York 2023