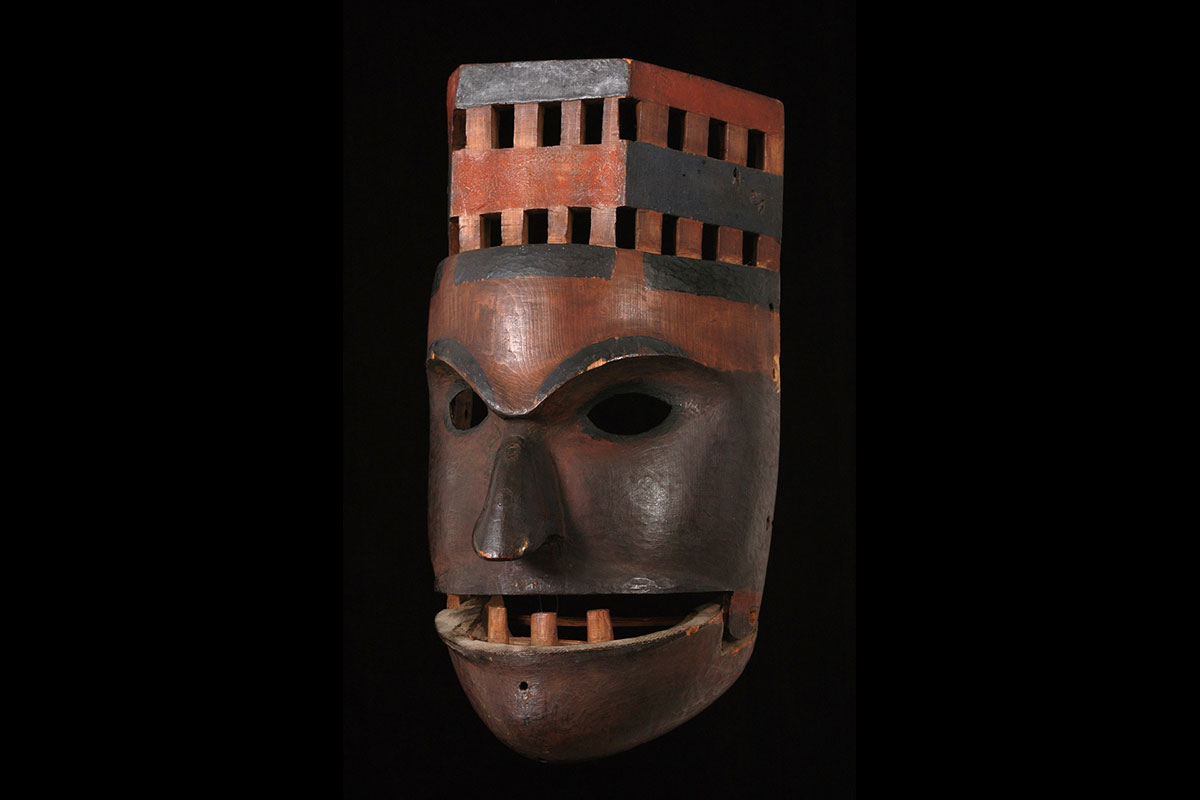 Mask
Nuu-chah-nulth
Vancouver Island, British Columbia
late 19th century
wood, paint
height: 12"

Inventory # N3682
Sold
acquired by The Audain Art Museum, Whistler, BC
PROVENANCE
Seahawk Auctions, Vancouver, BC, June 13, 2010, lot 193
PUBLISHED
Donald Ellis Gallery catalogue, 2011, pgs. 52-53
The Nuu-chah-nulth style of mask carving is one of the most intriguing in all of the Northwest Coast. The sculpture of the human face can be interpreted in many different ways, and the Nuu-chah-nulth approach is both interesting and distinctive.
This engaging mask expresses Nuu-chah-nulth sculpture in a powerful and refined way. The lower jaw is articulated to bring movement to the mask's presentation, and the eyes have the ability to open and close. The geometric construction on top of the head adds not only height but also a sense of grandeur. The alternating color patterns may represent the platforms erected in some Nuu-chah-nulth villages from which the head chiefs would distribute property as payment to his guests during potlatches and ceremonial events. Artists on Captain James Cook's Third Voyage made drawings of such platforms in the village of Yuquot in 1778, and witnessed their use on a ceremonial occasion.
The Nuu-chah-nulth style of face carving places the lowest part of the eyesocket in a deep hollow just beneath the eyebrows, as is seen here. From the edge of the eye, which can take on numerous differing forms, the eyesocket rises beautifully into the bulge of the cheeks. The cheek contours then return to a hollow where they meet the edge of the mouth. The mouth on this mask is wider than usual, due to the hinged and articulated feature, and the separate wood pieces represent teeth. The protruding nose is added on, though the addition appears to be an old one. It may be original, or it could be a Native repair made within a few decades of the mask's creation. The refinement of the eyebrow line merges with the bulges and subtle hollows of the forehead area, forming a complex sculptural zone seldom seen in later Nuu-chah-nulth masks.
The simple color palette of black, red, and blue, and the minimal way these colors are distributed over the sculpture are some of the indications of an early origin for this mask. Coupled with the style and refinement of the face sculpture itself, these elements suggest that the mask dates from 1820-1840. After that time, Nuu-chah-nulth mask sculpture became more stylized and somewhat more angular departing from the more naturalistic curves and subtle hollows of the past. In the firelight of an ancient performance house, this mask with its subtle, expression-filled eyes and mouth, and mysterious top extension would have presented a spectacular vision to an enthralled audience.
Steven C. Brown, October, 2010
Related Publications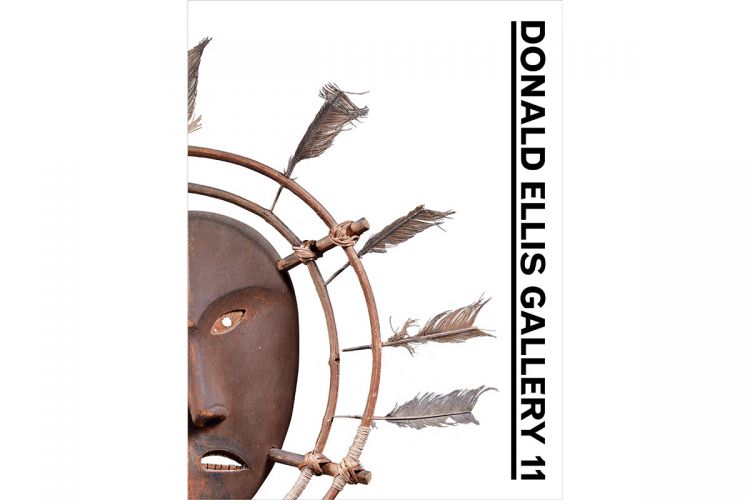 $35.00 USD