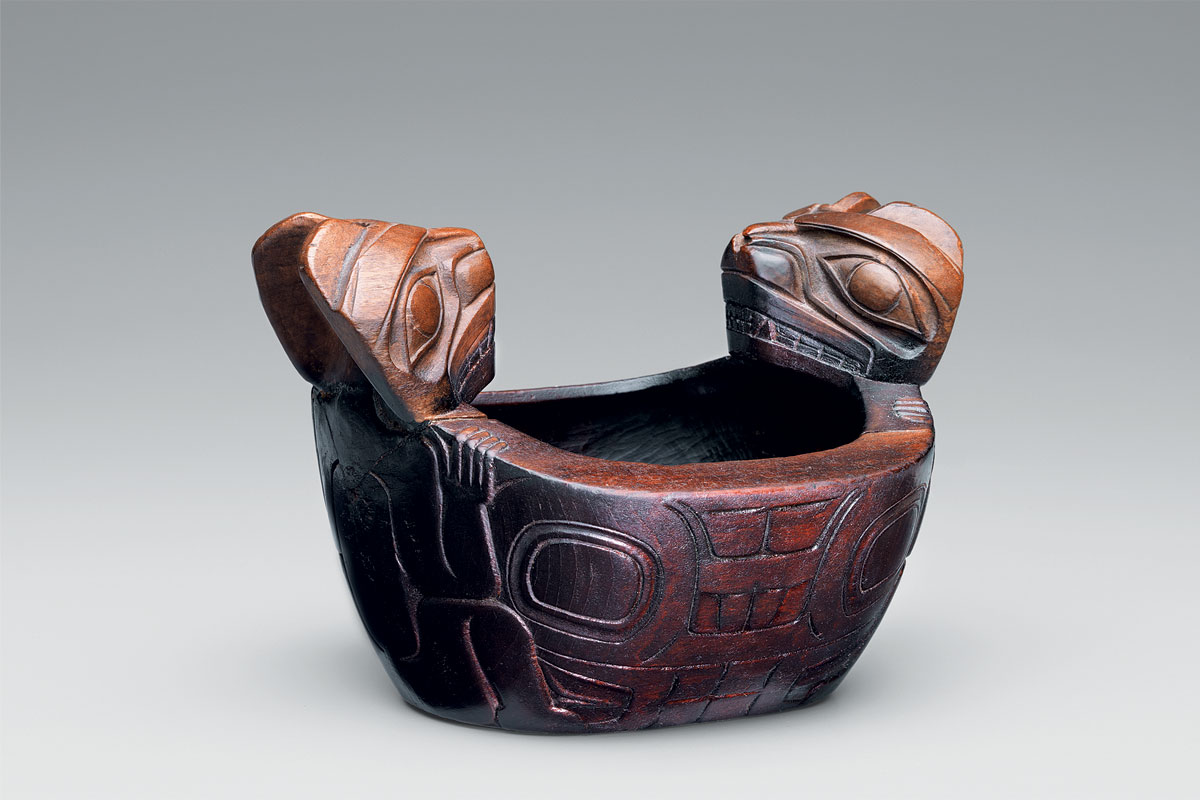 Grease Dish
Haida
Haida Gwaii, British Columbia
ca. 1820
wood
width: 6 ½"

Inventory # CN3789
Sold
Provenance
Museum fur Volkerkunde, Berlin, Germany
Allan Frumkin, New York, NY
Donald Ellis Gallery, Dundas, ON
Private collection, New York, NY
Published
The Northwest Coast of America, Museum für Völkerkunde Portfolio, Berlin, 1883
Monuments in Cedar, Keithahn, New York, Bonanza Books, 1963, pg. 98
Donald Ellis Gallery catalogue, 2001, pg. 31 and 2012, pl. 4
Wooden bowls manufactured by the indigenous peoples of the Northwest Coast came in a wide variety of forms and sizes. Large bowls, sometimes reaching 20 feet in length, were generally used to serve food during great feasts. In contrast, small bowls were most often made to contain individual or family portions of "eulachon" or candlefish oil, an important food source.
In this wonderfully diminutive bowl, small figures, likely bears, crouch and peer at each other over the rim of the vessel. The style of carving can be readily compared to documented works in wood and particularly argillite, dating to the early 19th century. The overall balance of composition, employing early broad-formline design on the body of the animals, and the fine, expressive rendering of the bears heads, denote the sure hand and eye of a master carver.