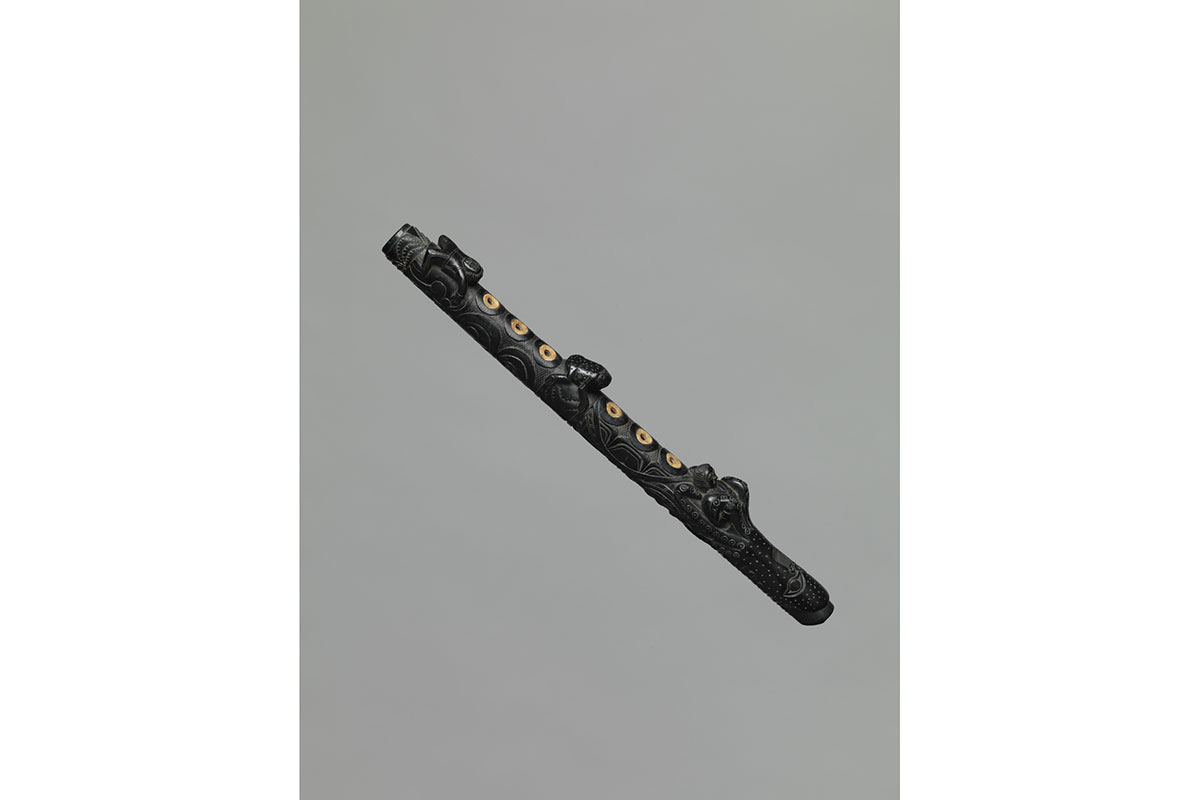 Flute
Haida
Haida Gwaii, British Columbia
Second period (1825-65)
argillite, marine mammal ivory
width: 15"

Inventory # N4174
Sold
Surviving examples of argillite flutes are exceedingly rare outside of museum collections.
Related Examples
Glenbow Museum, Cat. Nos. AA 2032, AA 1870 and AA 1940 – See: Sheehan, Carol. Pipes that won't Smoke, Coal that won't Burn, pg. 153, pls. 46, 47 and 48
Niedersachsisches Landesmuseum, Hannover, Germany, Cat. No. I/1059 – See: Haberland, Wolfgang. Donnervogel und Raubwal: Die indianische Kunst der Nordwestkuste Norkamerikas. Hamburg: Hamburgisches Museum fur Volkerkunde und Christians Verlag, 1979, pg. 247, pl. K-22
Ubersee-Museum, Bremen, Germany, Cat. No. C 198 – See: Ibid, pg. 247, pls. K-23
British Columbia Provincial Museum, Cat. No. 10780 – See: Drew, Leslie and Wilson, Douglas. Argillite: Art of the Haida. Vancouver: Hancock House Publishers, 1980, pg. 185
Northwest Coast First Nations were among the first Indigenous peoples in North America to develop art for sale on a large scale. In the early 1820's, when Haida society was still largely demographically and culturally intact, artists began carving argillite, a form of dense shale. Targetting the tastes of early Euro-American sailors and coastal traders, some of the earliest argillite carvings are in the form of pipes and musical instruments such as flutes, which were not previously known to the Haida. The present example is one of few surviving works outside of museum collections. Inlaid with marine mammal ivory, the artist innovatively combines motifs appropriated from Russian, American and European decorative art, perhaps borrowing from the figurehead of a sailboat, with traditional Haida designs and organizing principles. Sourced from the only known quarry of its kind on Haida Gwaii, formerly Queen Charlotte Islands, British Columbia, the carving of argillite is a right reserved to the Haida Nations and only those with Haida ancestry.