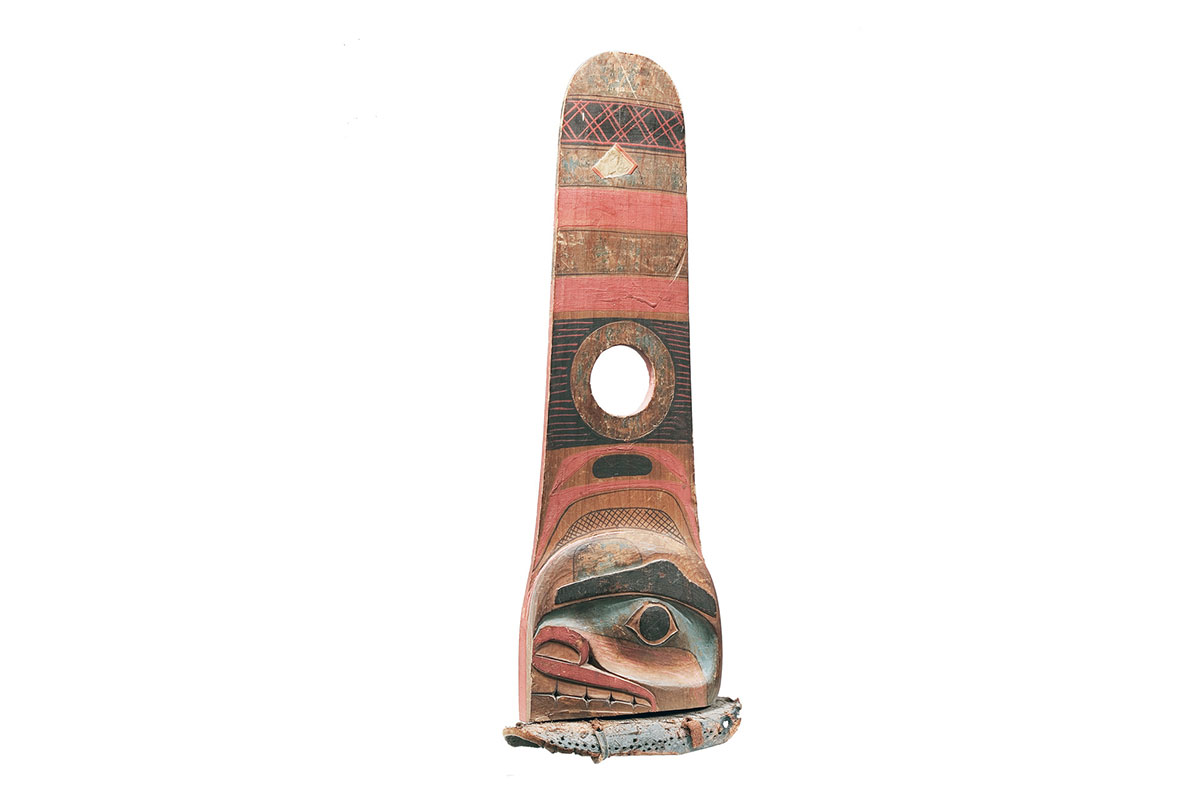 Dorsal Fin
Tsimshian
Northern British Columbia
ca. 1840-1860
wood, paint, hide
height: 13 ½"

Inventory # N2978-4
Sold
PROVENANCE
acquired by the Scottish Reverend Robert J. Dundas from Anglican lay minister William Duncan in 1863 at the village of Metlakatla, BC
by descent in the family
Simon Carey, London, United Kingdom
Sotheby's New York, Oct 5, 2006, lot 39
PUBLISHED
Tsimshian Treasures, Ellis (ed.), Vancouver, Douglas & McIntyre, 2007, pgs. 76-77
The present headdress finial was acquired by the Scottish Reverend Robert J. Dundas from the English lay missionary William Duncan on a trip to Canada in 1863. In 1862, Duncan had established a model Church of England mission at Old Metlakatla, an abandoned settlement near Prince Rupert, B.C. Dundas acquired almost 80 objects from Duncan, including crest helmets, rattles and antler clubs which remained in the Dundas family for several generations.
The dorsal fin is a clear, iconic symbol for the killer whale, foremost crest of the Gisputwada or killer whale clan. Some examples of carved fins like this were made to attach to a sculptured wooden hat or headpiece by way of a carved tenon on the fin that fit into a corresponding mortise on the hat or headpiece. This masterfully carved and painted fin was made as a headpiece in itself, and such fins of this type were known by a title that translates as "Fin of Scalp" (see Hoover, Alan L., The History of The Dundas Collection, in: Tsimshian Treasures, Ellis (ed.), Vancouver, Douglas & McIntyre, 2007, pg. 57).
The wooden fin is attached to a small piece of thick hide by way of two iron nails. The hide piece in turn was tied atop one's head with tanned leather chin straps that are now broken off and missing. The hide piece has dried and curled with age, but once may have featured small tufts of human hair set into the small holes near its outer edge.
A masklike humanoid face is relief-carved at the base of the fin, a convention often seen in this type of free-standing dorsal fin representation. This example of shallow face carving is similar to those commonly seen in elaborate carved chest designs, where small, masklike faces peer from within the swirling formlines of the painted image. The round eye with very short eyelid points and the use of the blue-green color in only the upper half of the eye socket are both traits of Tsimshian style. The use of a red modified U-shape in the lower half of the eye socket is a very unusual feature, but one that balances well with the use of red on the upper part of the fin.
All the expertly carved and painted work on this fin suggests that its maker was an inspired and highly respected artist. Standing tall above a crowd and tilting with the turns and movements of its wearer's head, such a fin would have been an impressive sight at a feast, dance performance or other ceremonial occasion.