Views

D-ADZE
Quinault
Washington State
ca. 1750-1800
whale bone, steel, brass, fibre (sinew) wrapping
approx. length: 9"
Inventory # CN4313-148
Sold
no restoration or repair
The similarity between this adze, and an example in the Peabody Museum, Harvard, is striking. The example at hand however more skilfully and beautifully carved, and displays characteristics consistent with the earlier work of a highly skilled master.(See essay by Steven C. Brown attached).
Provenance
Private collection, Vancouver Island, British Columbia
Tom Stark, Victoria, British Columbia
Donald Ellis Gallery, Dundas, ON
Published
Donald Ellis Gallery catalogue, Toronto, 2001, pg. 3
Related Examples
Peabody Museum of Archaeology and Ethnology, Harvard, No. 65509 – See: A Time of Gathering, Wright, University of WA Press, 1991, plate 60
Fenimore Art Museum, Cooperstown, New York, (The Thaw Collection), No. T471 - See: Art of the North American Indian, Vincent, University of WA Press, 2000, pg. 315
Previous
Chinookan, likely Multnomah
Lower Columbia River
ca. 1750-1820
CN4313-128
Sold
Next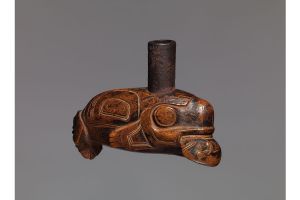 ca. 1840
N4051
Sold
See more