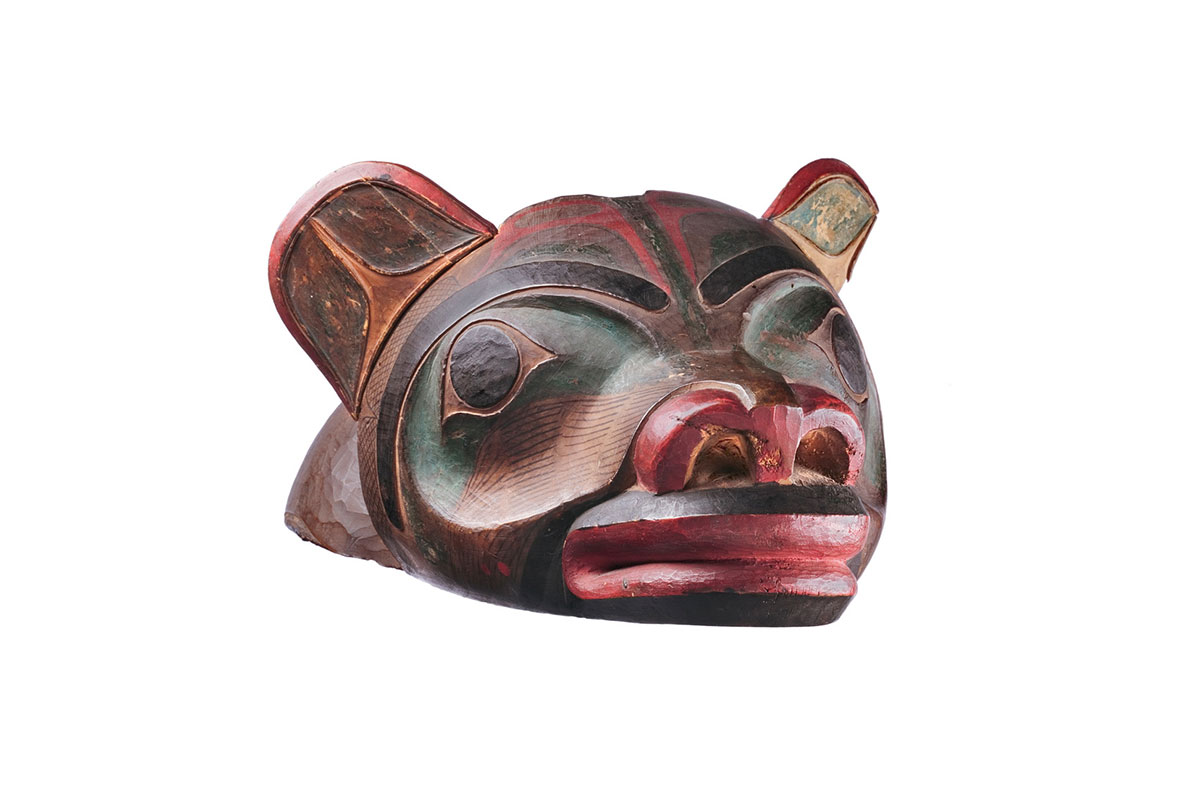 Crest Helmet
Tsimshian
Northern British Columbia
ca. 1840-60
alder, paint
height: 7 ½"
width: 14"

Inventory # N2978-3
Sold
PROVENANCE
acquired by the Scottish Reverend Robert J. Dundas from Anglican lay minister William Duncan in 1863 at the village of Metlakatla, British Columbia
by descent in the family
Simon Carey, London, United Kingdom
Sotheby's New York, Oct 5, 2006, lot 37
PUBLISHED
Tsimshian Treasures, Ellis (ed.), Vancouver, Douglas & McIntyre, 2007, pgs. 72-73
This clan helmet was acquired by the Scottish Reverend Robert J. Dundas from the English lay missionary William Duncan on a trip to Canada in 1863. In 1862, Duncan had established a model Church of England mission at Old Metlakatla, an abandoned settlement near Prince Rupert, B.C. Dundas acquired almost 80 objects from Duncan, including crest helmets, rattles and antler clubs which remained in the Dundas family for several generations.
The finely carved and smoothly finished image that adorns this crest hat could be that of either a bear or a wolf, and arguments could be made in favor of either representation. The short, rounded ears and the relative broadness of the short snout, however strongly suggest the bear attribution.
The face of the bear is a masterful combination of Tsimshian sculptural conventions with the naturalistic forms of a bear's real-world features. The overall form of the face matches quite well with the characteristics of a bear's skull and head shape, and the traditional design features that embellish the image overlay that form and fill out its sense of character and identity. Tsimshian stylistic traits include the thinness of the red formline that establishes the shape of the ears, the narrow width of the eyebrow that arches so elegantly over the eyesocket, and the smallness of the eye itself in relation to the surrounding socket. The use of parallel dashing in the eyesockets behind the nostrils and the cross-hatching painted between the eyebrows and ears are also more common in Tsimshian work than in objects from either the Tlingit or Haida First Nations. The head of the wearer of this remarkable crest hat fits into the inverted bowl form of a 'cap' that makes up the rear portion of the headpiece. With the exception of the U-shaped ears, the entire object is made of one piece of wood, creating the strongest sort of bond between the cap and its sculptural embellishment. The bear and wolf are crests of the Laxgibuu, or wolf clan, and the brown bear or grizzly is also a crest of the Gisputwada or killer whale clan. Precisely which type of bear this represents and which of these clans the hat once belonged to are not known at this time.