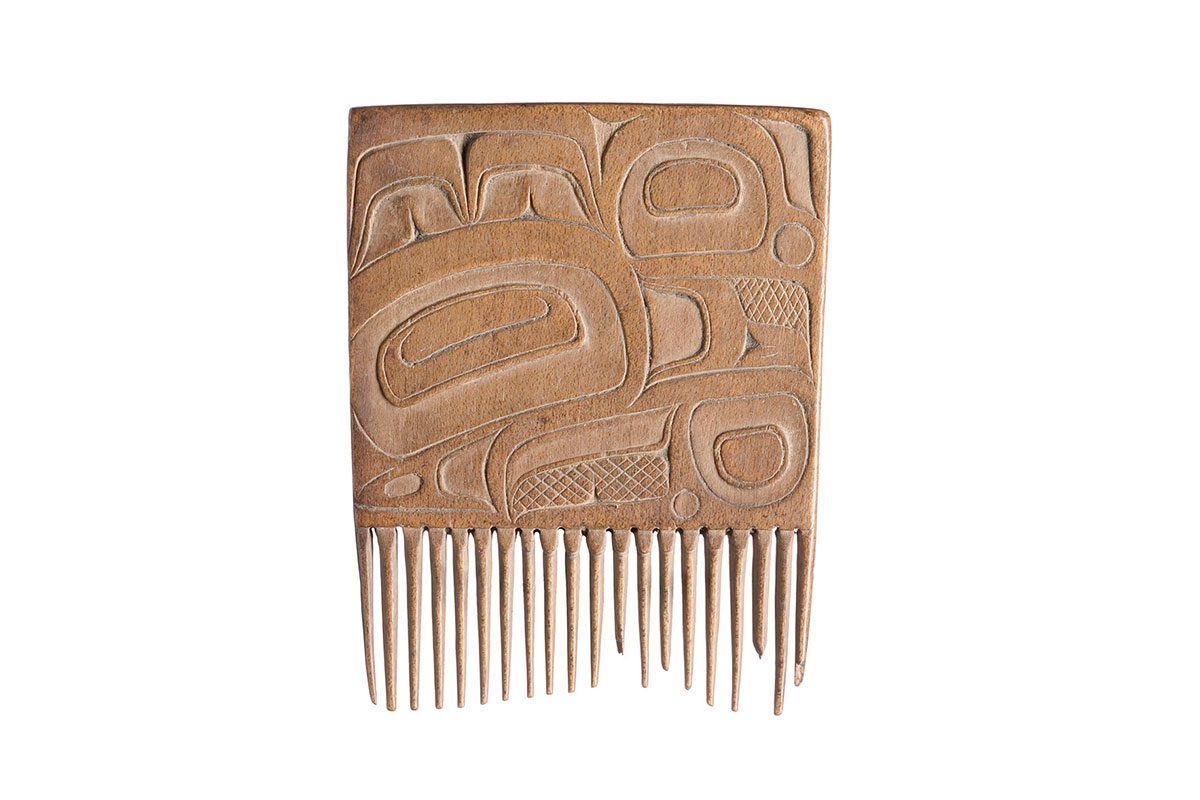 Comb
Tsimshian
Northern British Columbia
ca. 1930-60
wood
height: 4 ½"

Inventory # N2978-7
Sold
acquired by the Thomson Collection now at the Art Gallery of Ontario
PROVENANCE
acquired by the Scottish Reverend Robert J. Dundas from Anglican lay minister William Duncan in 1863 at the village of Metlakatla, BC
by descent in the family
Simon Carey, London, United Kingdom
Sotheby's New York, Oct 5, 2006, lot 23
The present comb was acquired by the Scottish Reverend Robert J. Dundas from the English lay missionary William Duncan on a trip to Canada in 1863. In 1862, Duncan had established a model Church of England mission at Old Metlakatla, an abandoned settlement near Prince Rupert, B.C. Dundas acquired almost 80 objects from Duncan, including crest helmets, rattles and antler clubs which remained in the Dundas family for several generations.
Small hand-combs vary widely in the ways they are decorated. Styles range from delicate relief-carved, two-dimensional designs, as seen in the fine example here, to those that feature complex compositions of multiple creatures and images that have much in common with the central sculptures seen in many headdress frontlets. Certain wooden combs feature images with shamanic themes, though it is said that shamans would not allow their hair to be combed, believing that it would diminish their powers. Other comb images appear to represent crest emblems or themes from clan origin stories and mythology that would relate to the owner's lineage history.
This comb appears to have received a great deal of use, as it shows advanced wear at the base of the teeth and erosion of their thickness toward the center of the comb. The formline design that fills the nearly square design field was conceived and carved by a master artist. The visual balance of the ovoid and U-shaped forms, and the harmonious distribution of positive (on the surface) and negative (carved-away) areas illustrate the artist's facility traditional design principles. The formline image is most likely that of a bird, possibly a raven, though the artist has focused on powerful design forms and graceful junctures rather than the elements of a more naturalistic style of representation. Another comb exists that is possibly the work of the same artist (see: Brown, Steven C. Native Visions: Evolution in Northwest Coast Art from the Eighteenth Through the Twentieth Century. Seattle: University of Washington Press, 1998, pg. 79, fig. 4.21.) Information that has remained with that comb indicates that it was collected in the same area and period of time as this one acquired by Rev. Dundas.