Views

Antler Club
Tsimshian,
Northern British Columbia
18th century or earlier
caribou antler, abalone shell, hide
length: 18 ¾"
Inventory # CN4313-123
Please contact the gallery for more information.
no restoration or repair
PROVENANCE
Collected by William Henry Collison (b. 1847 d. 1922), a missionary active among the Haida and Tsimshian from ca. 1875 until his death in 1922.
Emily (Collison) MacDonald
Linda R. Westby, Nanaimo, BC
Donald Ellis Gallery, Dundas, ON
Private collection, Toronto, ON
PUBLISHED
In the Wake of the War Canoe, Collison, Toronto, The Mission Book Company, 1916, pg. 145
RELATED EXAMPLES
University Museum, Philadelphia, Cat.No. NA 3315 – See: Native American Heritage, Mauer, Art Institute of Chicago, 1977, pg. 306, pl. 479
The Robert and Lisa Sainsbury Collection, Cat. No. 62 – See: The Robert and Lisa Sainsbury Collection, Volume II, Hooper, Yale University Press, New Haven and London, 1997, pg. 262
The Eugene and Claire Thaw Collection, Cooperstown, New York, No. T171 – See: Art of the North American Indians: The Thaw Collection, Coe, Brydon and Vincent, University of Washington Press, 2000, pg. 355
Museum Fur Volkerkunde, Berlin – See: Native Arts of North America, Feest, Thames and Hudson, London, 1980, pg. 187, pl. 183
Museum voor Land, Rotterdam, Holland, No. 34793 - See: Donnervogel und Raubwal, Haberland, Hambburgisches Museum fur Volkerkunde und Christian Verlag, Hamburg, 1979, pg. 137, pl. F-14
Museum of Anthropology, University of British Columbia, No. A2606 - See: Indian Masterpieces From the Walter and Marianne Koerner Collection, University of British Columbia Press, 1975, fig. 24
Royal British Columbia Museum, Victoria, BC, Unpublished (Online archive)
The Menil Collection, Houston, Texas, Cat. Nos. 140 and 191 See: Spirits in the Water: Native Art Collected On Expeditions to Alaska and British Columbia,1774 – 1910, Brown, University of Washington Press, 2000, pg. 175, pl. 142, and National Museums of Paris, La rime et la Raison, 1984, pg.191
The Smithsonian Institution, Washington, DC, Cat. No. 74500 – See: Niblack, Albert P. The Coast Indians of Southern Alaska and Northern British Columbia (Annual Report of the U.S. National Museum for 1888) Washington, Fig. 260
Donald Ellis Gallery catalogue, 2011, pgs. 14-15 (Private collection, New York)
Donald Ellis Gallery catalogue, 2005, pg. 7 (Private collection Toronto, ON, on loan to the Art Gallery of Ontario)
Sotheby's, New York, The Dundas Collection of North American Art, October 5, 2006, lot 35 ($940,000 USD) - (Private collection Toronto, ON, on loan to the Art Gallery of Ontario)
Essay
Antler clubs are among the most remarkable of Northwest Coast objects, and, along with carved bone 'soul catchers', are among those objects that are iconic of Tsimshian arts and culture. Sometimes referred to as slave killers, and evidently at one time employed as such, these impressive weapons were the prized possessions of Tsimshian chiefs. They appear to have a great antiquity on the British Columbia mainland, and most likely originated among Athabaskan-speaking peoples of the continental interior, where caribou are common. The club style migrated to the coast through major river valleys such as the Nass and Skeena, their size and surface decoration increasing through time. Small-scale versions of these clubs have been excavated from archaeological sites near Prince Rupert, on the northern coast of British Columbia, and have been dated at 100-250 AD (Prehistoric Art of the Northwest Coast, MacDonald, 1983:112). Skillfully embellished historical clubs of this type are nonetheless relatively rare from the coastal area, and many of these exhibit a great deal of age and use, as does this example.
Previous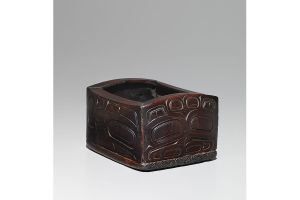 Haida
Haida Gwaii, British Columbia
ca. 1840-60
N4181
Next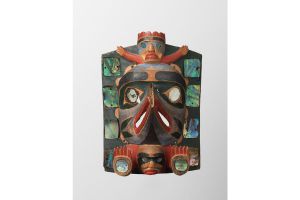 Nuxalk
Central Coast British Columbia
ca. 1870
N4355
See more