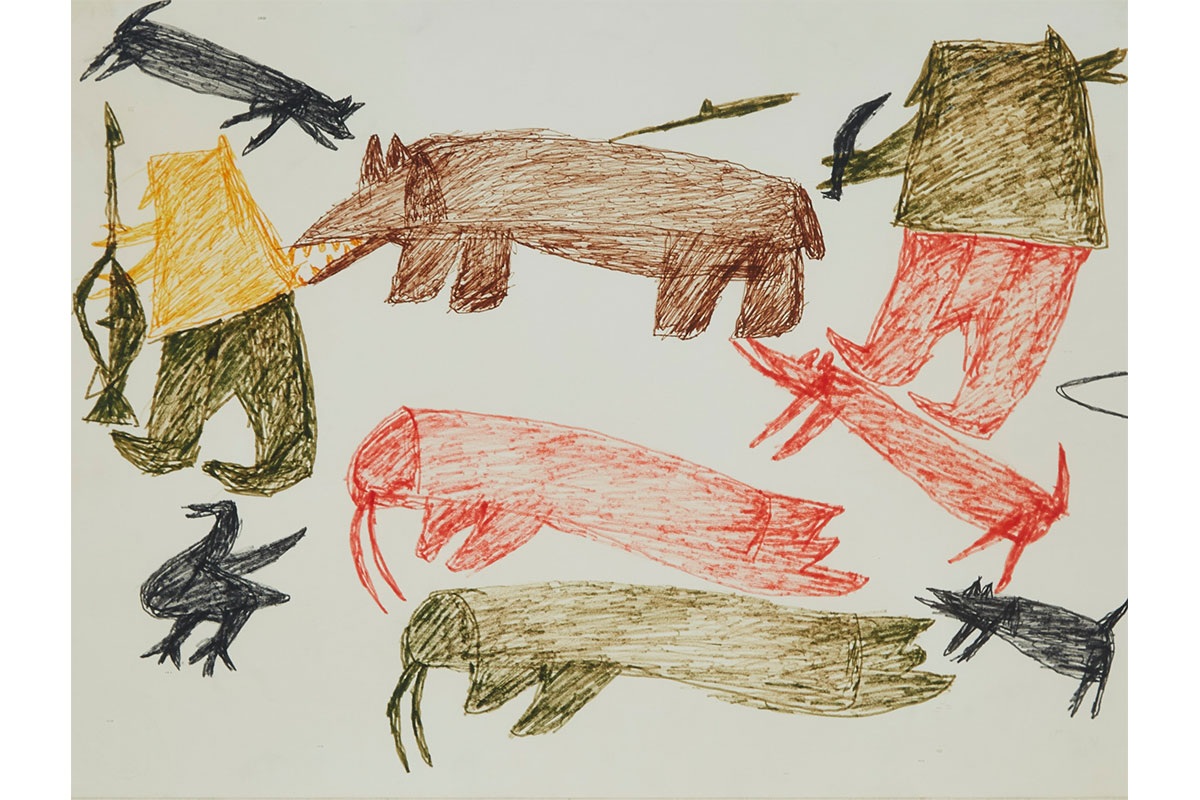 Untitled
Parr, 1893-1969
Inuit
Cape Dorset, Nunavut
ca. 1965
felt-tip pen on paper signed in syllabics
height: 18"
width: 24"

Inventory # C4271
Please contact the gallery for more information.
RELATED EXAMPLE
Untitled felt-pen drawing, ca. 1967 - See: Hessel, Ingo: The Drawings of Parr: A Closer Look, in: Inuit Art Quarterly, 1988 Fall, pg. 19
Parr (1893 - 1969) was born on the southern coast of Baffin Island, Canada, in 1893. He and his wife Eleeshushe Parr led a nomadic existence for most of their lives, spending their winters at Tessikjakjuak (Fish Lakes)'and the summers at Tikerak or Nita camp. After a serious hunting accident in 1961, the family settled permanently in Cape Dorset, Baffin Island, a famous Inuit artist colony founded in the early 1950s by James Huston. At the encouragement of Terrence Ryan, a young art student trained at the Ontario College of Art who had become the resident arts advisor in Cape Dorset, Parr took up drawing at the age of 68. During his short but prolific career, Parr moved between various media, working with graphite, crayon, coloured pencil, charcoal and felt-tip pen on paper as well as with stonecutters print, stencil print and etching. He produced over 2000 drawings and contributed 34 prints to the annual Cape Dorset print collections. Like most of the Inuit artists of his time, he was largely self-taught. Of all the drawings made by the first generation of artists in Cape Dorset, it is perhaps those by Parr that speak most eloquently of the nomadic lives of Inuit families before the 19th century. Unlike most other Inuit art, shamanic transformation or mythology are almost completely absent in Parr's work. Instead, Parr's focus remained on the hunt, animals, and later on the human figure as hunter. His art is essentially subject-oriented: figures are rendered as distinct entities on a white background, spread out equally across the page. Since landscape is not commonly represented, meaning derives from the relative constellation of figures to each other. Largely unrecognized during his own lifetime, Parr has become one of the most iconic artists of Cape Dorset, and indeed of all of Indigenous North America. His drawings and prints are in the permanent collections of major institutions worldwide, including the Museum of Modern Art, New York; the National Gallery of Canada, Ottawa; and the British Museum, London. Parr has been featured in numerous important exhibitions as well as being the featured artist of three solo shows. In 1977, the print Hunters of Old was selected for a Canadian postage stamp.