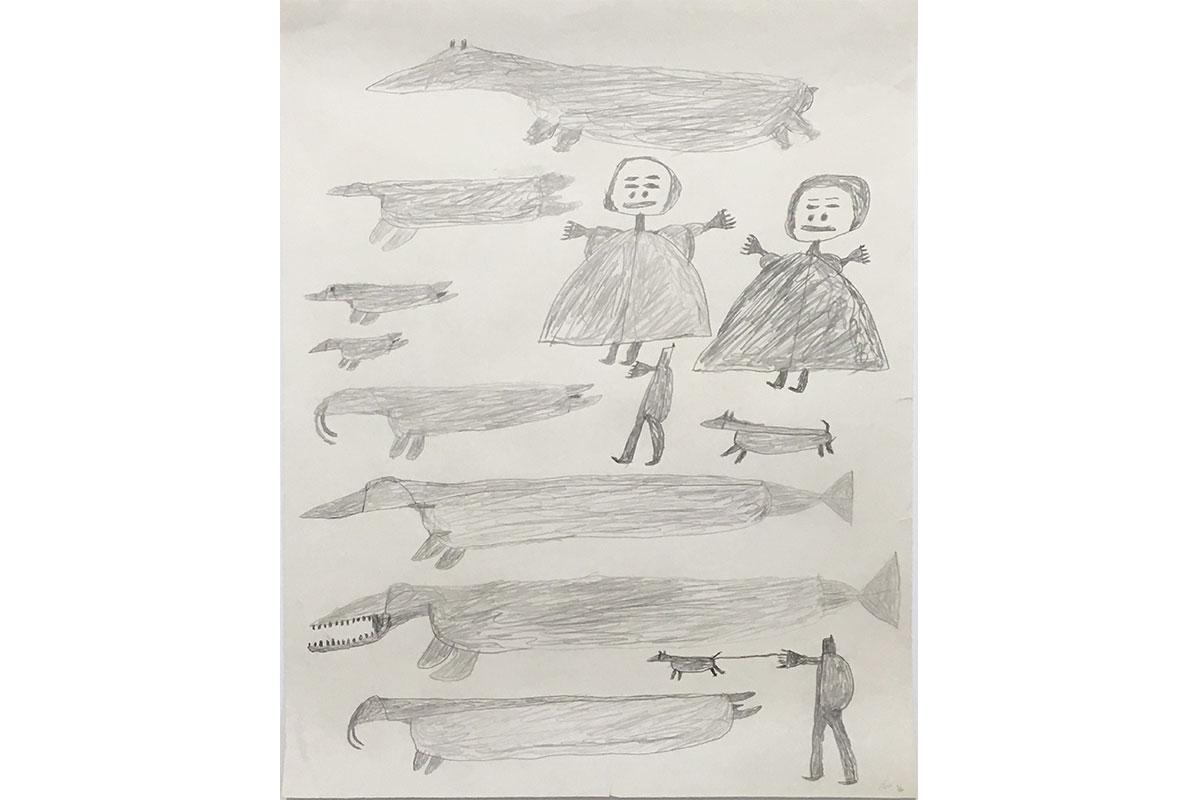 Untitled (People and Animals)
Parr, 1893-1969
Inuit
Cape Dorset, Nunavut
ca. 1961
graphite on paper
height: 24"
width: 18"

Inventory # C4232
Please contact the gallery for more information.
PROVENANCE
Albrecht Collection; Waddington's Nov. 2005
REFERENCES
a slightly earlier drawing in Walker's May 2016 (Lot 44); a slightly later one in Walker's May 2015 (Lot 10); an article on Parr in IAQ: Hessel (1988); Parr drawing exhibition catalogue: Jackson (1988).
Untitled (People and Animals) dates from the first period of Parr's artistic output. Using graphite on a spiral sketch pad, the image already displays many of the important characteristics of Parr's distinctive style. The largest section of the drawing is occupied by a bear and a number of sea mammals, each portrayed with a semi-oval body and diminutive heads, limbs and tails. Individual species are distinguished by their unique characteristics such as walrus tusks, seal flippers, triangular whale tails and teeth. Several of the animals have faint spine-like horizontal lines running through their bodies, a stylistic device which would become more pronounced by 1962. The four human shapes accompanied by two dogs likely depict Parr and his family, although gender is hard to distinguish. Human figures depicted in profile are more naturalistically drawn appearing to be hunters, which would suggest that they are male, whereas those captured frontally have large, round heads and wear women's tent-shaped clothing. Importance is given not to the relative sizes of figures or the naturalistic rendition of individual features, but to a balanced distribution of positive and negative spaces across the visual field. All bodies are rendered as massive, self-contained shapes, their precise contour lines filled in with rapidly executed strokes, importing a dynamic vibrancy to the arguably rigid composition of the scene. Like almost all of Parr's art, Untitled (People and Animals) is devoid of pronounced action. Instead, Parr chose to reminisce scenes from his nomadic life. Like earlier records carved in bone, this drawing articulates the significance of animals and the importance of a successful hunt, upon which every family depended for sustenance.
Parr (1893 - 1969) was born on the southern coast of Baffin Island, Canada, in 1893. He and his wife Eleeshushe Parr led a nomadic existence for most of their lives, spending their winters at Tessikjakjuak 'Fish Lakes' and the summers at Tikerak or Nita camp. A serious hunting accident in 1961, however, obliged the family to settle permanently in Cape Dorset, Baffin Island, a famous Inuit artist colony founded in the early 1950s by James Huston. Having taken up drawing at the age of 68, Parr has become one of the most iconic artists of Cape Dorset, and indeed of all of Indigenous North America. His drawings and prints are in the permanent collections of major institutions worldwide, including the Museum of Modern Art; New York; the National Gallery of Canada, Ottawa; and the British Museum, London. Parr has been featured in numerous important exhibitions as well as being the featured artist of three solo shows.