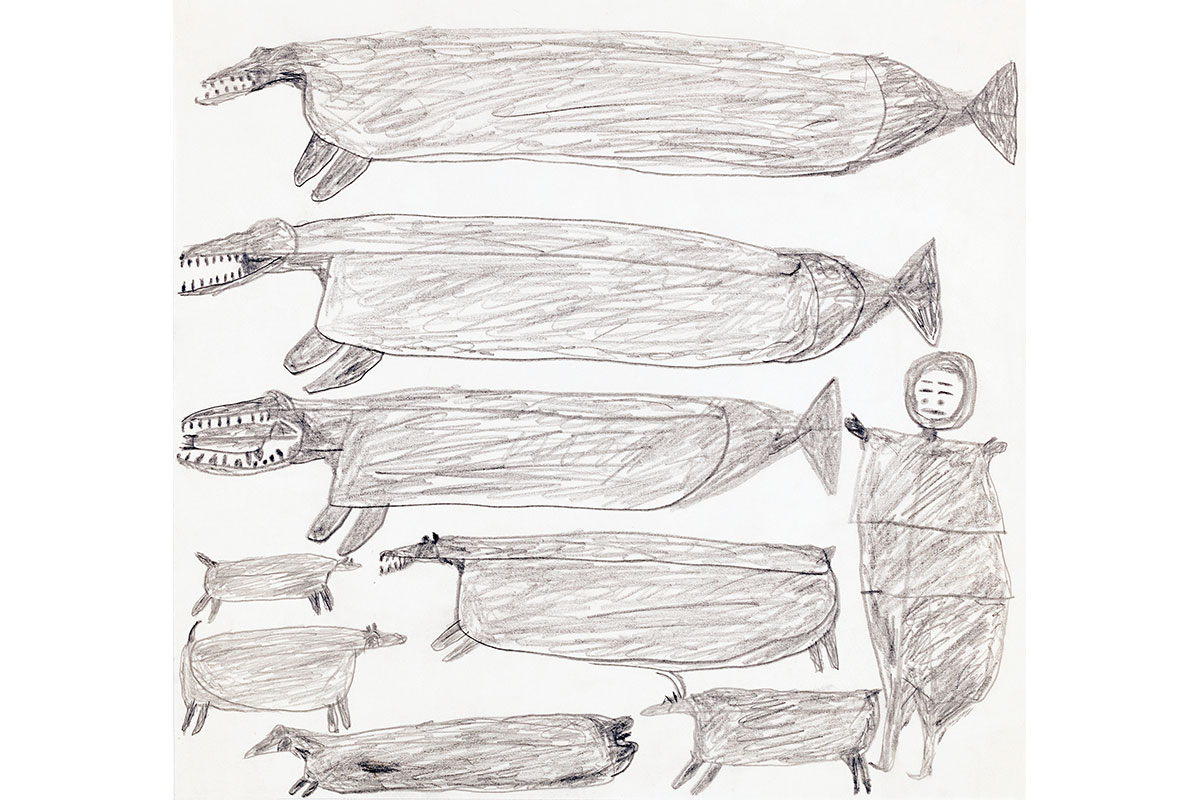 Untitled (Hunter with Animals)
Parr, 1893-1969
Inuit
Cape Dorset, Nunavut
ca. 1961
graphite on paper
height: 18"
width: 17"

Inventory # C4397
Please contact the gallery for more information.
PUBLISHED
This graphite drawing is reproduced in Ingo Hessel, "The Drawings of Parr: A Closer Look", Inuit Art Quarterly (Vol. 3, No. 4, Fall 1988), g. 4, p. 16.
Parr (1893 - 1969) was born on the southern coast of Baffin Island, Canada, in 1893. He and his wife Eleeshushe Parr led a nomadic existence for most of their lives, spending their winters at Tessikjakjuak 'Fish Lakes' and the summers at Tikerak or Nita camp. A serious hunting accident in 1961, however, obliged the family to settle permanently in Cape Dorset, Baffin Island, a famous Inuit artist colony founded in the early 1950s by James Huston. Having taken up drawing at the age of 68, Parr has become one of the most iconic artists of Cape Dorset, and indeed of all of Indigenous North America. His drawings and prints are in the permanent collections of major institutions worldwide, including the Museum of Modern Art; New York; the National Gallery of Canada, Ottawa; and the British Museum, London. Parr has been featured in numerous important exhibitions as well as being the featured artist of three solo shows.