Views

Feast Bowl
Western Great Lakes
ca. 1840
burled maple
length: 14"
width: 10 ½"
Inventory # CW4314-163
Please contact the gallery for more information.
In native mythology, when the earth was young and shrouded in creation, there was little difference between their ancestors and the animals. Everyone could communicate and appear as human, or animal by simply taking off their skin and exchanging it for another. The people traced their mythological ancestors through these animals. The Woodlands, Great Lakes Indians organized their lineage into clans that held one animal or another as their ancestor and totem figure. Thus, villages could have many different people mixed into many clans with totems of bear, eagle, hawk, crane etc.
This feast bowl with carved birds, probably hawk or eagle totem figures would have been used in both secular and non secular ceremonial feasting, somewhat like bringing out the good dishes when guests arrive. These feast bowls validated the clan and the family and they were proud possessions.
PROVENANCE
Christie's, New York, January 13, 2003, lot 170
Donald Ellis Gallery, Dundas, ON
Private collection, Toronto, ON
EXHIBITED
Art Gallery of Ontario, 2008-2013
RELATED EXAMPLES
Detroit Institute of Arts, Detroit, MI, No. 81.643 – See: Great Lakes Indian Art, Penney, Wayne State University Press, 1989, fig. 11
Denver Art Museum, No. 1941.280 – See: Native American Art in the Denver Art Museum, Conn, University of WA Press, Seattle, 1979, pl. 85, for a ladle exhibiting very similar Thunderbird imagery.
Detroit Institute of Arts, Detroit, MI, No. 81.117 – See: Great Lakes Indian Art, Penney, Wayne State University Press, 1989, fig. 17 for a bowl of similar form with abstracted animal imagery
Previous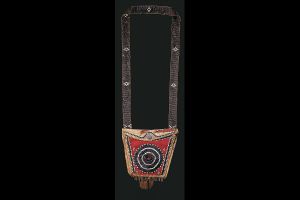 ca. 1760-80
CW4314-169
Next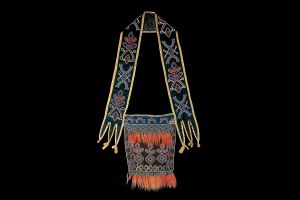 Delaware or Shawnee,
Southeastern United States
ca. 1830-40
CW4314-168
Sold
See more