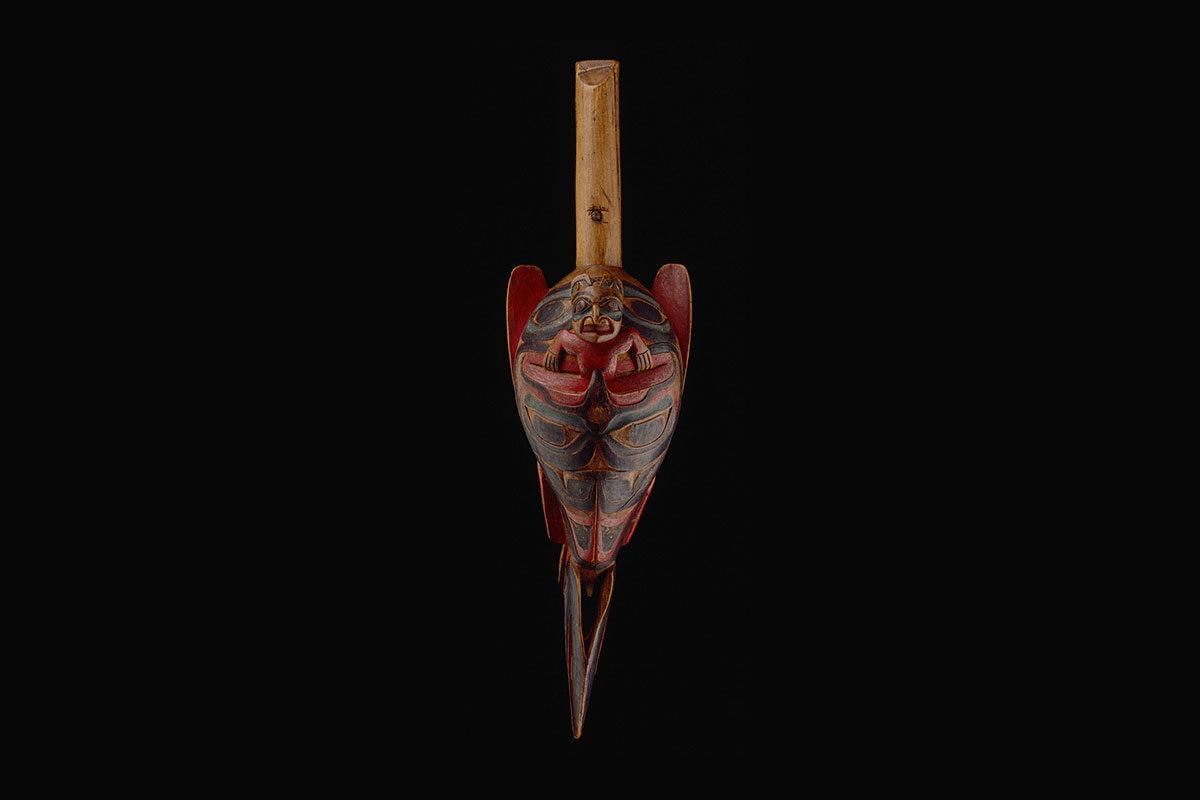 Raven Rattle
attributed to Albert Edward Edenshaw (1812–1894)
Haida
Haida Gwaii, British Columbia
ca. 1860
wood, paint
width: 12 ¼"

Inventory # N3275
Sold
PROVENANCE
Private collection, North Carolina
PUBLISHED
Donald Eliis Gallery catalogue, 2006, pgs. 5
Brasser, Ted. J. Native American Clothing: An Illustrated History. Toronto: Firefly Books, 2009, pg. 286
RELATED EXAMPLES
Heye Foundation, New York, No. 16/292 - See: From the Land of the Totem Poles. Jonaitis, Aldona. Seattle: University of Washington Press, 1988, pl. 25
Charles and Valerie Diker Collection, New York, NY – See: Bernstein, Bruce and McMaster, Gerald (eds). First American Art: The Charles and Valerie Diker Collection of American Indian Art. Seattle: University of Washington Press, 2004, No. 49
Spirits of the Water. Brown, Steven C. Seattle: University of Washington Press, 2000, pl. 136
This exquisite raven rattle is possibly the work of the prominent Haida Chief and acclaimed artist Albert Edward Edenshaw (c. 1812-1894). Albert Edenshaw is best known for his work in copper and large totem poles, but also produced smaller works, most notably a group of masterfully executed headdress frontlets now found in several museum collections. Albert Edward Edenshaw was the maternal uncle and mentor of the great Haida carver Charles Edenshaw (c. 1839-1924).
The carving of raven rattles is an old and venerated Northwest Coast tradition rooted in distant times and shamanic origins. The general imagery of raven rattles varies little from one to another, however the uniqueness of each example is assured by the personal style of each individual artist. The maker of this superb rattle has included carved features that create an outstanding example of the type, one that is unique even among the most uncommon examples.
An elegance of form and visual balance are but two of the attributes of this rattle. In place of the usual human head atop the reclining body, the maker has carved a fine bear mask with a protruding snout and upstanding ears. Graceful curves and precise modeling are evident on the top side of the rattle, while on the breast of the raven a surprise awaits. Protruding from the wide mouth of the face is an image of a bear-human transformation. This figure, with its hands gripping the lower lip, appears to be pulling itself out from within the mouth. The figure's head extends out over the curvature of the rattle in a surprising departure from the more usual form of raven rattles.
The carving of this rattle is distinctly Haida in style, most clearly evident in the sculpture of the bear and bear/human heads. The detailing of these faces display characteristics associated with the work of the mid 19th century Haida artist Albert Edward Edenshaw.
Related Publications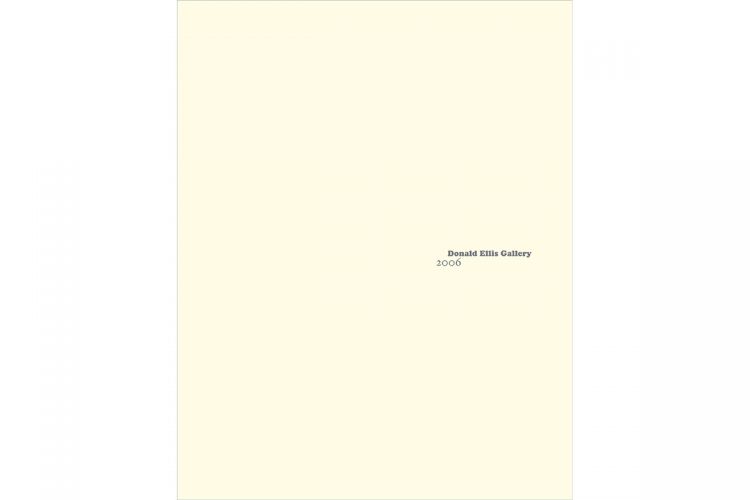 $35.00 USD