Views
Mask
Sugpiaq
Kodiak Island, Alaska
late 18th/early 19th century
wood, paint
height: 9 3/4˝
Inventory # E3730
Sold
Provenance
J.J. Klegman, New York, NY
Donald Ellis Gallery, New York, NY
Private collection
Published
Donald Ellis Gallery catalogue, Toronto, ON, 2011; pg. 21
Related Examples
Desveaux, Emmanuel et al. Kodiak, Alaska: Les masques de la collection Alphonse Pinart. Paris: Editions Adam Biro, 2002, pg. 152
Desson, Dominique. Masked Rituals of the Kodiak Archipelago. Unpublished P.H.D Dissertaion, University of Alaska, Fairbanks, 1995, pg. 477
Essay
The Russian conquest of the Kodiak archipelago and Prince William Sound in 1784 had a profound effect on the traditional way of life for the Sugpiaq inhabitants of the region. By the late 19th century, pre-contact ceremonial events and religious practices were gradually replaced by Christianity, and the use of masks or "giinaquq" which translates as "like a face, but not really", gradually disappeared (see: Steffian 2009, pg. 1).
In 1872, the French linguist and ethnologist Alphonse Louis Pinart, spent the winter on Kodiak Island recording stories and songs, and collecting objects, most importantly, an astonishing group of approximately eighty-seven masks (see: Desson 1995, pg. 279). The bulk of this collection (seventy-seven masks) is now in the Chateau-Musee in Bolougne-Sur-Mer, with the remainder residing at the Musee du Quai Branly, Paris. A survey of Sugpiaq masks in other public and private collections reveals that less than one hundred masks survive from this region.
The strikingly bold graphic quality of Koniag/Sugpiaq design is unparalleled in Eskimo art, and is exemplified by the arresting example presented here. The crisp sculptural forms are enhanced by the complex painted design. The subtle nasal ridge and the arcs of the brow are both beautifully modeled, and the distinctive, sensitively carved bird-like form of the mouth is found in only a few other examples from the region. A strikingly similar mask now in the British Museum (see: Desson 1995, pg. 477, pl. 58) clearly shares an identical subject matter and has been described as being among the most highly decorated masks from the area. While both are undoubtedly of an early age, the thickness of the lips, the shape of the chin and the form of the mouth of the British Museum example all suggest that it was likely inspired by the earlier, more graceful mask seen here. The great age of this mask is also indicated by an infrastructure on the reverse, upon which a hoop was affixed surrounding the main body of the mask. This detail is extraordinarily similar to a feature seen on a mask that was excavated at the Karluk One Site, dating to AD 1400-1750 (see: Steffian 2009, pg. 1).
As distinguished from their Yup'ik neighbors to the north, the Sugpiaq created masks of relatively simple form, yet subtle beauty. This work stands as a masterpiece of this ancient masking tradition.
Previous
Koniag
Kodiak Island, Alaska
late 18th/early 19th century
E1706
Sold
Next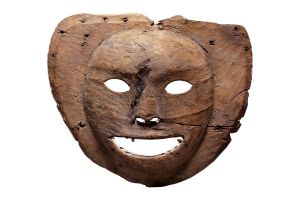 Yup'ik
St. Lawrence Island, Alaska
18th century or earlier
E1562
Sold
See more