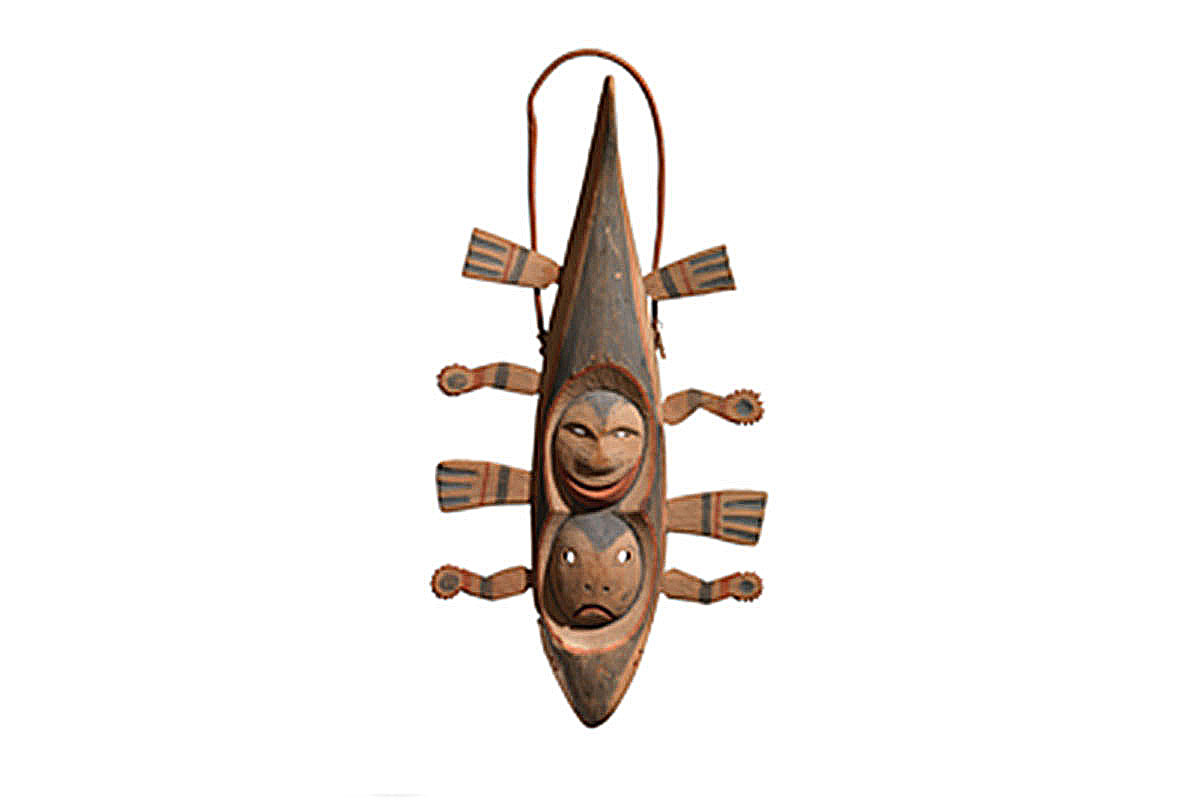 Views

Complex Dance Mask
Yup'ik
Likely Goodnews Bay
Southwest Alaska
ca. 1890-1905
wood, paint, vegetal fiber
height: 34 ½"
Inventory # E4200
Please contact the gallery for more information.
Provenance
This mask was collected in Alaska in the late 19th century by Joseph E. Chilberg. Chilberg traveled to Alaska for the gold rush, and over a period of approximately 20 years, amassed a large and significant collection of Eskimo art and artifacts. In 1917 Chilberg established Chilberg's Alaska Museum of Arctic Antiquity and Curio Emporium in Long Beach, California, which remained in operation until 1935.
Museum of the American Indian, New York, Cat. No. 5/430, exchanged to Edward Primus in October 1957
The artist Roberto Matta, Paris, France, by descent through the family
EXHIBITED AND PUBLISHED
Arts primitifs dans les ateliers d'artistes, Paris, Musée de l'Homme, 1967, in the catalogue: plate 33: the caption reads as follows : "Collection Matta MASQUE H. 84 cm , Eskimo, Alaska, Epoque contemporaine. Bois peint. Masque d'inua représentant le saumon et son double humain, à face gaie et à face triste, selon peut-être qu'il est favorable ou défavorable au pêcheur.
Moon Dancers: Yup'ik Masks and the Surrealists, Field, Jennifer (Ed.), Di Donna Galleries, New York, 2018, pgs. 128, 130-131, 143. (Exh.: "Moon Dancers: Yup'ik Masks and the Surrealists", Di Donna Galleries, New York, April 27 - June 29, 2018)
Related Examples
Thomas Burke Memorial Washington State Museum, Seattle, WA,
Cat. No. 4528 – See: Fienup-Riordan, Ann. The Living Tradition of Yup'ik Masks. Seattle: University of Washington Press, 1996, pg. 162 and Rousselot, Jean-Loup. Abel, Bernard. Pierre, Jose. Bihl, Catherine. Masques Eskimo D'Alaska. Editions Amez, 1991, pg. 267 for a similar monumental mask collected by Ellis Allen in 1912
Alaska State Museum, Cat. No. IIA 1454 – See: Ibid, pgs. 287 and 269 for another large mask likely from Goodnews Bay collected by D.S. Newumann between 1910 and 1921
Anchorage Museum of History and Art, Calgary, Alberta – See: Ager Wallen, Lynn. The Face of Dance: Yup'ik Eskimo Masks From Alaska. Calgary: The Glenbow Museum, 1990 pg. 29 for a smaller mask in the image of a salmon.
Denver Art Museum – See: Rousselot, Jean-Loup and Abel, Bernard. Pierre, Jose. Bihl, Catherine. Masques Eskimo D'Alaska. Editions Amez, 1991, pg. 157 for a later complex mask in the form of a salmon
Previous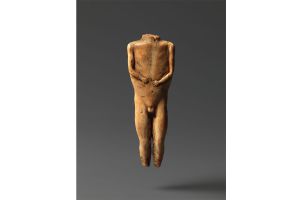 Old Bering Sea II
St. Lawrence Island, Alaska
100 - 300 AD
E4266
Next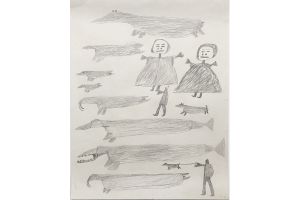 Kovinatilliak Parr (1893-1969)
Inuit
Cape Dorset, Nunavut
ca. 1961
E4232
See more